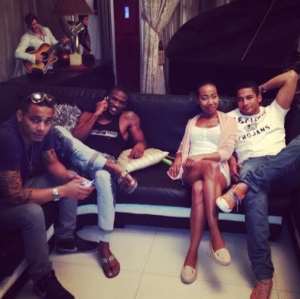 It is no longer hidden that Peter Okoye of singing duo, Psquare did not attend his elder brother, Jude's wedding ceremony that took place today at Nnewi, Anambra state.
If his post on his social page is anything to go by, Peter was chilling with his friends at the Square villa this afternoon while his brother's wedding was going on in Anambra state.
His fans have reigned insults on him, saying he is keeping grudges and paying evil for evil. This is because Jude did not attend Peter and Lola's wedding that held last year. According to what some of his fans think, Lola should have convinced him to go, but Lola too wasn't present at the wedding.
His twin brother Paul Okoye and His wife Anita were both present at the wedding ceremony, Anita took pictures with the new wife. But Lola wasn't spotted. This are pictures of Peter and his friends chilling together at the Square ville this afternoon.