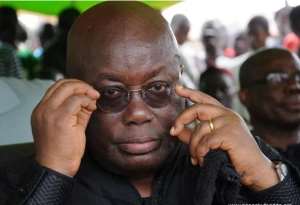 The kusaasi people of the Upper East Region of which I am part, always remind us that Time, is not a good friend to anybody; it will definitely catch up with you and expose you to the entire world of who you really are. They also often tell us that, it takes only the power of the wind to expose the veiled anus of a stubborn fowl.
The above wisdomic expressions of my tribesmen, whom, many political bigwigs within the New Patriotic Party (NPP) habitually describe them as children of a lesser God, sons and daughters of mere watchmen, are not to beguile you into reading this piece. No! However, these are sadly, today, the preeminent narrative of President Nana Akufo-Addo and his large-size government.
The time, that they comfortably used to swindle Ghanaians preceding to the 2016 general elections has soon caught up and is badly exposing them. And just like in the case of the fowl, the wind has also blown off, the feathers that covered their grubby, rotten and foul-smelling anus. Time, is indeed, not a good friend! And the power of the blowing wind will always expose the hidden anus of every fowl that often forget it has one. Seen?
Nana Akufo-Nana has been stripped off his fake beautiful clothes that had covered his body. His white-dressed angelic men and women, he conceitedly hyped to Ghanaians are also now naked before the world. And what Ghanaians now see in that nakedness is panic-stricken corruption, cluelessness and larceny! Our national purse is being raped in broad daylight by these naked bodies. Let's take a trip down on a reminiscence lane.
Prior to the 2016 general elections, Nana Akufo-Addo and his party paraded themselves as saints of our aeon. They told Ghanaians that they were the true anti-corruption crusaders who wanted to wipe-out all forms of corruption in the country. They further told Ghanaians that Ghana could be on its way to becoming a paradise on earth if they had the political power to rule. We smiled happily not knowing we were being misled. We voted for them massively.
But today, here we are, with just a little over seven months to the end of their mandate, I sadly submit to Ghanaians that the anti-corruption crusade of the President Akufo-Addo's government has turned out to be a crusade of loot, steal and rob as much as you can and retire with much to eat for a lifetime. My position is validated by the shoddy, useless and selective manner this administration has so far executed its fight against corruption.
I am tempted to liken the Akufo-Addo's government bungled fight against corruption that they heavily relied on during their fake messianic change campaign to the story of a reckless girl who got pregnant and thought that having numerous sex with different men would abort the pregnancy. Simply put, this is the only government in the history of Ghana that appointed and continues to appoint corrupt officials to fight corruption. Isn't it intriguing and astonishing?
Since this government took over, there has been so much mismanagement of the process, so much misapplication of the momentum, and so much floundering of the philosophy underpinning the anti-corruption agenda.
Instead of fulfilling its promise of fighting corruption, the Akufo-Addo's Presidency is rather engaged in politicising and ethnicising the fight against corruption to such dimensions that is not only assaulting but insulting to our collective sensibilities as a country. The government theoretical fight against corruption appears to be only tilted towards the past administration and nowhere else.
Unarguably, every Ghanaian knows that the persuasive vigour or promise that galvanised massive support for the candidature of Nana Akufo-Addo in the 2016 presidential election was his illusory anti-corruption posture. The anti-corruption aura around him was so tangible that a Messianic garb or vest was placed on him with admiration by so many people especially true anti-corruption crusaders around the country. It was so forceful and inviting!
But almost four years on, the story has changed endorsing the old aphorism that, it's not all that glitters are gold, compelling some to the thinking that something uncanny must have terribly afflicted the president's sense of fairness in the fight against this deadly canker. It is sad that Akufo-Addo and his government have thrown into the dustbin, the base metal by which it ascended to power. Corruption has become the bane of this government. No day, week or month passes without a corrupt scandal trouncing this government.
President Akufo-Addo and his white-dressed angelic men and women promise to fight corruption found yachting marina in the people's expectations. Security and the economy were some of the other critical promises with conviction that once corruption was sent to exile, other issues would fall in place to produce a bigger and complete picture of national rebirth evidenced. But what we have seen so far is rather a national burial being organised with the bleeding public purse.
Whatever must have afflicted this administration's fight against corruption has certainly dealt it the unkindest blow. A waft that has gathered enough banana peels to cause the party to fall off during this year's general elections. So much corrupt activities have gone on within these few years of this naive government that has made nonsense of our sense of collective perception about Akufo-Addo and his anti-corruption posture. He's clearly the opposite of who he told us he was. A conning character!
Reprehensible corrupt scandals such as The BOST - Gh¢15m Contaminated fuel, Ministry of Trade/Presidency - $100,000 Cash4Seat saga, Planting 4 Food/Jobs - Gh¢18million dubious expenditure, the dubious $2.5m Ghana Post GPS deal, the dubious $178 GVG Kelni/NCA deal, the dubious $4m mobile interoperability deal, $20,000 Flag Staff House [Presidency] appearance fee, Kwesi Nyantakyi/Akufo Addo, $5m; Dr Bawumia, $3m etc deal, the $2.25billion Kenbond scandal and the Gh¢800,000 Website cost scandal have been swept under the carpet by a government that promised to fight corruption its might.
How can we quickly dust our minds clean of the Agric Minister's 745,000 phantom jobs, the shameful Australia 2018 Commonwealth Games Visa scandal where all culprits were cleared by the Presidency, the NIA dubious $1.22b national registration exercise, the Scandalous $1.37 billion AMERI Novation and Amendment deal, the 500 vanished galamsey excavators, the GRA embezzlement saga, the contracts for sale at Public Procurement Authority (PPA) under the Minister for Procurement and the National Youth Authority blowing Gh¢4,525,500 on sole sourced contract without approval from PPA to train 500 youth in street light repairs. How can Ghanaians so soon dust our minds of these embarrassing scandals under a president who pretended to be our only liberator?
Yet, none of these have been properly investigated and the culprits put before any court. The government interest is rather focused on continuously accusing former appointees of the past administration of unverified corrupt deals. This action of this administration questions its sincerity in the fight against corruption.
President Akufo-Addo must not think he can do what he likes. He must know that he is president at the pleasure of Ghanaians and must rule in accordance with the Oath of Office that he swore to, among other things, do right to all manner of people, according to law, without fear or favour. What this means is that he must fight corruption from all angles including such acts within his own government. The selective manner he's going about his purported fight against corruption is clearly against his Oath of Office.
The president is observably not doing right to all manner of persons in the fight against corruption. He is not as well doing right to all manner of persons in his governance. He is only doing right to his family and friends. And he must be told in the face without fear or favour. Ghanaians huge investment of confidence in Akufo-Addo that was wrapped in an electoral mandate has proved, ex-post facto, that our prognosis was wrong. This is the conflicted and contentious reality. We are being led by a government where corrupt acts have become a norm.
As a football lover, I consider these shameful acts as own goal for the Akufo-Addo government comes the next elections. This government has mollycoddled compromised its appointees that were expected to be facing criminal charges at the law courts. The president responsibility to walk his talk by being fair in dealing with corrupt public officials has been thrown to the dogs.
I strongly believe that the international community is not monitoring the numerous corrupt happening within this government in Ghana; otherwise, our president is not in any way qualified to be giving precious international platforms to continue deceiving the world that he's up to the task in the anti-corruption war.
No! He's not near qualification to continue vomiting promises on how to fight anti-corruption. He's no longer the anti-corruption "poster boy" and must not be recognised as such. His purported fight against corruption is like a dancer who has stacked enough banana peels and decides to dance on same to gratify his audience. The outcome will be a striking fall. And this is what awaits President Akufo-Addo and his government come December 7.
The writer is a senior Journalist, Editor of The National Tribute, columnist with Ghanaweb.com, Modernghana.com and other online portals. He's also a political activist with the National Democratic Congress. Contact: [email protected] .