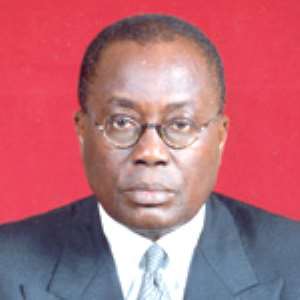 Members of the Non-Aligned Movement (NAM) must concentrate their energies on making themselves masters of the emerging global economy so that their long suffering and impoverished people could live their lives in dignity and prosperity.

To achieve this, they had to depend on themselves and to build their capacities and institutions to address the governance and economic challenges, which had hitherto hindered their growth and progress, Ghana's Minister for Foreign Affairs, Regional Intergration and NEPAD, Nana Addo Dankwa Akufo-Addo, said yesterday.
In a speech at the Ministerial Meeting of the Coordinating Bureau of the NAM in Putrajaya, Malaysia, today, he said NAM members needed to lift their people out of poverty both as individual States and as a collective Movement.
"We believe that it is important for us as a collective body to cooperate more closely in the areas of peace and security, economic development and the promotion of human rights and the rule of law worldwide.
"We must engineer a more dynamic and cooperative relationship among ourselves that will enable us to assert our presence as a strong global force in our dealings with the industrialised world", he noted.
The theme for the meeting is: "Towards a More Dynamic and Cohesive Non-Aligned Movement: Challenges of the 21st Century."
The Foreign Minister said NAM should intensify the coordination of their development efforts in order to take advantage of the benefits of globalisation and to escape the fate of marginalisation.
Nana Akufo-Addo said Ghana was determined as it approached the golden jubilee of its independence, to develop her new state on the basis of the principles of democratic accountability, respect for human rights and rule of law.
"We are enhancing our capacity by developing our human resources and encouraging individual initiative and enterprise in order to create a vibrant and competitive private sector capable of spearheading the socio-economic transformation of our country", he added.
Nana Akufo-Addo said the Government was also seeking to deepen their cooperation with other countries of the South to meet the pressing needs of the day which were eradication of mass poverty and the elimination of pandemics such as HIV/AIDS and diseases like tuberculosis and malaria.
He said Ghana strongly supported the ongoing efforts to reform the UN to make the world body a more efficient instrument of global governance in the 21st century and confirm it as the pre-eminent forum for the resolution of global issues.
He said the process should embrace all aspects of the work of the UN, including the expansion and reform of the Security Council.
Nana Akufo-Addo urged NAM members to stand firmly behind the reform agenda and to act to realise it as quickly as possible saying they did not benefit from the status quo.
He thanked the international community for Ghana's election to the new UN Human Rights Council and said she would do her best to justify her election.