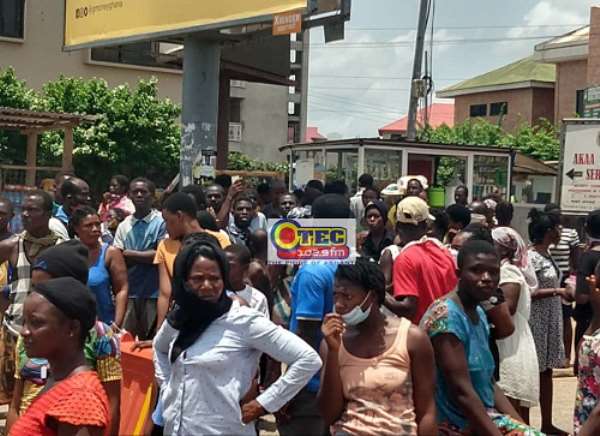 Hundreds of people in Asokwa in the Kumasi Metropolis in the Ashanti region today Monday, April 13, 2020, ignored social distancing order as they gathered in numbers to receive food being distributed by the National Disaster Management Organisation (NADMO) as part of government measures to cushion the vulnerable in this lockdown period.
Distribution of food by philanthropists and government agents to crowds in Kumasi is likely to spread the coronavirus as residents breach the social distancing protocol in an attempt to get their share of the food in lockdown areas, a situation that needs to be checked.
Residents, numbering about 500 on Easter Monday gathering at the Church of Pentecost, McKeown Temple at Asokwa to collect their foods without observing the protocol and wearing of nose masks that halt the spread of the CONVID-19.
Otec News' crew who visited the scene said there were about five queues leading to the church auditorium where each person was given four cups of rice, four cups of gari and eggs.
The security forces at the place, according to the Otec newsmen, mounted a security checkpoint without seeing to the distancing protocol been observed, only using whips to disperse when the crowd tried to breach the security point.
Some residents who talked to Otec News said defying social distancing is not as important as getting food for their families who are starving due to the lockdown.
"I have been home for two weeks now without any food because I cannot go out and work to get money to buy food. I came here as early as 5 am. I don't care about the social distance, all that I need now is food for my family," a worried and angered resident said.
As part of measures to ensure that members of the public within the restriction of movement areas – Accra, Kumasi, Tema and Kasoa – live comfortably, the government announced a relief food packages to the residents.
Distribution of foods to these areas has been surrounded by the non-compliance of social distancing as the members overcrowded themselves to get their share.
---OtecfmGhana.com/Francis Appiah