Kufuor Lied About ECOWAS Bank Loan - says Palaver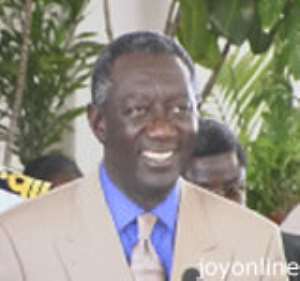 ON August 9, 2005, President John Agyekum Kufuor held a Press Conference at the Castle, Osu. Our [Palaver's] Managing Editor, Joojo Bruce Quansah was in attendance. Joojo pointedly asked President Kufuor whether the ECOWAS Bank granted a loan of US$1 million to "Hotel Kufuor".
President Kufuor pointedly denied it.
In the CHRAJ Report on the Hotel, the Commission reports that "further support [for Hotel Kufuor] came from ERIB [ECOWAS Regional Investment Bank or ECOWAS Bank], an international financial institution focusing on private sector projects and commercial infrastructure, with the approval of $1 million on August 17, 2005 for AWHCL" [Airport West Hospitality Company Limited]".
In other words, within one week of Joojo's question, President Kufuor's denial was transformed into an affirmation. Whether there was "kululu" or not, the following facts are incontrovertible:
* "Chief John Addo-Kufuor, President Kufuor's son's loan application, was made when President Kufuor was ECOWAS Chairman;
* The application was made by Mr. J. H. Addo, Chairman of Prudential Bank, Chairman of the ECOWAS Bank, and member of President Kufuor's Council of State;
* The loan was appraised during the same period and when Mr. J. S. Addo, former Governor of the Bank of Ghana, Chairman of the Prudential Bank and member of President Kufuor's Council of State was the Chairman of the Board of Directors of the ECOWAS Bank
* Prudential Bank is the lead Bank that syndicated the loan for the purchase of "Hotel Kufuor".
For the benefit of our readers, we reproduce below the following publications:
(i) Joojo Bruce Quansah's Question to President Kufuor at the latter's Press Conference of 9th August 2005;
(ii) President Kufuor's Answer to Joojo's Question;
(iii) CHRAJ's finding in respect of the financing of "Hotel Kufuor" by the ECOWAS Bank (ERIB).
Joojo Bruce Quansah: Your Excellency Mr. President, listening to you, this morning, it leaves me a lot of questions to ask but unfortunately, I have only one question to ask. My question fortunately or unfortunately is about your son's hotel.
The first facility from the ECOWAS Regional Bank to Ghana was one million facility that went to Airport West Hospitality Company, which belongs to your son. The facility was given at a time when you were the ECOWAS Chairman. Now, that facility had been arranged during the NDC time for an industrialist in Kasoa who produces rubber bags for salt bagging. Now the information I have is that that facility was diverted to Airport West Hospitality. Airport West Hospitality at the time was a very young company and this industrialist has been around for some time. I will like you to confirm or deny whether this facility was actually given to Airport West Hospitality, which belongs to your son.
John Agyekum Kufuor: Mr. Quansah, I'm surprised by your question that ECOWAS Bank has extended a facility to Ghana and extended it to some industrialist around Kasoa and that when we assumed office we diverted it to my son to buy a hotel.
As I stand here, I want to assure the whole of Ghana that as far as I know, the ECOWAS Bank has not, as we speak, given any credit to any business entity in Ghana here. It is a new Bank and about just preparing to take off and as far as I know, no credit has been given to any business entity here in Ghana, let alone my using my position as ECOWAS Chairman to divert a credit extended to somebody at Kasoa to be given to my son.
This is——has not approved any loan I know of, so far, as I stand, including my son's application there. Please this is what I will tell you there.
CHRAJ Report
18. Further support came from the Ecowas Regional Investment Bank (ERIB), which was created after the transformation of the Ecowas Fund for Cooperation, Compensation and Development into a holding company called the Ecowas Bank for Investment and Development (EBID). It has two subsidiaries, Ecowas Regional Development Fund (ERDF) which is charged with financing of development projects in the public sector and poverty alleviation, and the Ecowas Regional Investment Bank (ERIB).
19. ERIB is an international financial institution, which focuses on the financing, promotion and the development of private sector projects and commercial infrastructure within the community with regional integration as a focal point.
20. 17th August 2005, the Board of Directors of ERIB approved an amount of US670,000, an equivalent of US$1,000,000 in favour of AWHCL. The loan facility is to be secured as follows:
i. The execution of a "first class mortgage pari pasu with co-financiers over the Hotel building;
ii. The directors of the company shall jointly and severally guarantee the repayment of the facility with interest thereon;
iii. Guarantee from a guarantee fund or a first class bank;
The Hotel building shall be insured against fire with ERIB's interest endorsed.