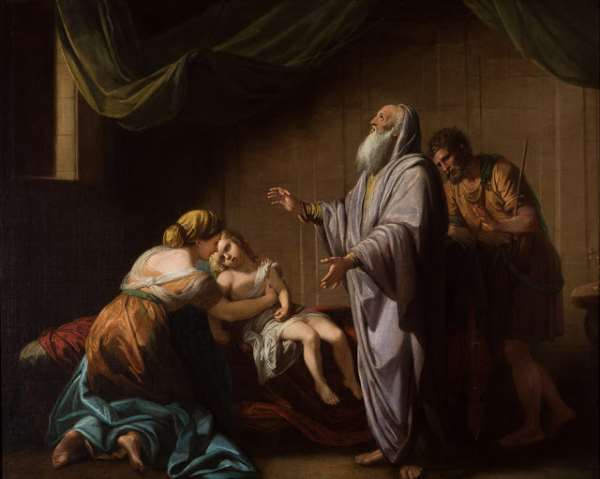 A Biblical illustration of Elisha, raising the son of the woman of Shunem, photo credit: Wikipedia
The immaturity of Ghana politics has become a joke to the developed world, the fact that it reveals so much that they are fighting for power to enrich themselves, instead of taking the needs of the poor into consideration.
However, what has made it a pure mockery is the prophecies of the so-called political prophets, I called them the descendants of Gehazi.
In Ghana two years ago to bury my dear mother, what caught my attention are signposts at every convenient place trumpeting about churches and prophets.
Why so many signboards about prophets? Does adding a prophet to a name give more recognition and respect to church leaders or pastors? It's hard to explain but the truth is Ghana is raining of prophets.
Politics being a lucrative business corrupt the heart, this is one of the reasons, actors, musicians and other celebrities are now entering into politics.
Since Jesus made us understand that his mission on earth is not political but spiritual, it's impossible for many pastors to announce their intention to join politics, however, their deeds and words reflect on many as NDC or NPP members.
When Naaman, the stubborn commander of the army of the king of Aram, acted upon the instructions of the prophet Elisha to cure his leprosy, after he went down and dipped himself in the Jordan seven times, he went to Elisha and said, "Now I know that there is no God in all the world except in Israel."
The surprised Naaman told Elisha, "So please accept a gift from your servant" but Elisha answered, "As surely as the Lord lives, whom I serve, I will not accept a thing." Naaman urged but the man of God refused.
This is something the present-day so-called Ghanaian prophets will never refuse.
"Go in peace, "Elisha said but after Naaman had left, Gehazi, the servant of Elisha, the man of God, whose descendants are the current greedy Ghanaian-political prophets, said to himself, "As surely as the Lord lives, I will run after him and get something from him."
Gehazi hurried after Naaman and took whatever his master rejected from him, after lying that his master sent him to say, "two young men from the company of the prophets have just come to me from the hill country of Ephraim. Please give them a talent of silver and two sets of clothing."
Today, so many so-called Ghanaian prophets are not interested in the spiritual kingdom; all of them are after treasures and the best way to get that wealth is to prophesy for political parties.
NDC will win and NPP will lose or vice versa. They are completely blind to the extent that they can't even realize those prophecies not from God are actually causing political tensions and hate in Ghana.
There are so many miracles performed by God's prophets in the Old Testament, Joshua divides the Jordan, Moses divides the Red Sea, Elijah revives the widow of Zarephath's son, Elisha prays and the oil of the widow multiplied, etc.
If the so-called Ghanaian-political prophets can't perform these tasks, I will give them the easiest one. They must pray for innocent Ghanaians to free their minds from the impact of NDC and NPP psychological scars because it seems they are worshipping political parties, instead of God.