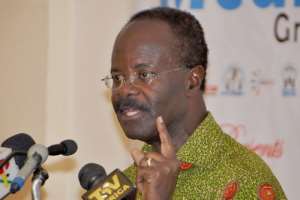 Paa Kwesi Nduom
Not too long ago, an old wag I know, said to me: "Kofi, isn't it odd that an honest and decent-minded gentleman, who is guided by a moral compass, and whose conglomerate was underpinned by corporate good governance principles, and employed so many across almost all the districts of Ghana, is now in this predicament?"
"Kofi, I don't believe in conspiracy theories, but I think Dr. Nduom has been deliberately ruined to put an end to his political career. Don't you think so too?" Hmmmm, Oman Ghana eyeasem ooooo - asem kesie ebeba debi ankasa.
My response? Well, unlike most, I actually believe that Dr. Nduom can recover from this blow, which will, and has, made him even wiser. Clearly. Nduom should not be allowed by decent folk to be so unfairly ruined - by the dark forces that seek to asset-strip the enterprise Ghana from the shadows.
Sadly, in the past, some of us went out of our way to e-introduce various innovative players, in different economic sectors from around the globe, to an Nduom-insider, who we now realise we should never have trusted. As it happens, copious email evidence of his treachery exists for doubting Thomases.
But, as the proverbial saying goes better late than never. The key to recovery for Groupe Nduom, lies with GN Power - but having learnt our lessons we will only talk to the great man himself.
Paa Kwesi Nduom will get all the information needed, to enable him restructure and revitalise GN Power and transform it into an unprecedented gold-mine-cum-cash-cow, all rolled into one - profits from which will fund his once-proudly-successful conglomerate's fightback. Simple.
We have absolutely no doubt at all that Nduom can rise Phoenix-like again, from this temporary, vital-lesson-learning-setback, and go on to finally achieve his noble aim of serving the nation, and people, he loves so passionately - as a much-loved President of Nkrumah's Ghana. God willing. Cool.