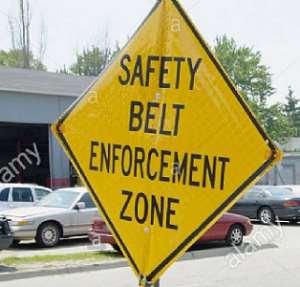 Suzie Williams, movie star of her time, wore no seat belt in her fatal traffic accident when I was a little boy. A very promising young Ghanaian musician, nicknamed Taribomchaka, wore no seat belt in his fatal traffic accident when I was still growing. Now, I am a grown man and still witnessing vehicle occupants being thrown out of cars and buses killing them instantly, and the survivors being severely injured during traffic accident. Vehicle occupants are usually scattered all over the place and the surrounding bushes at accident scenes. These scenes increase at an alarming rate before and during Christmas festivities. Seatbelts, of course, do not prevent a crash taking place. They do, however, play a crucial role in reducing the severity of injury to vehicle occupants involved in a crash.
Would I ever see, hear and do seat belt wearing in my lifetime in Ghana? Would there ever be a national public health policy or program to enforce and promote vehicular seat or safety belt wearing? Perhaps, special operations by law enforcement agencies during peak travel seasons could help, but in Ghana, seatbelt is like a taboo. Not even Operation Father Christmas could enforce the seatbelt law.
The Ghana Police Service out doored an operation codenamed "Operation Father Christmas" purposely for security of the citizens before and during the Christmas festivities somewhere in 2014, and since then it has been launched annually just before Christmas. The one for this year was launched on November 26, 2019 by the Inspector General of Police (IGP). The Motor Traffic and Transport Department (MTTD) of the Ghana Police Service are so visible during the operation at almost all intersections and highways to enforce strict compliance with road traffic regulations. Their checklist usually includes use of worn-out tires and rickety vehicles, the use of communication gadgets whilst driving, drunk driving, careless driving to ensure road safety for travelers during the peak season, but strangely exclude seatbelt inspection. Wearing of seatbelt is still a missing topic in the education and sensitization programs at taxi ranks and bus stations by the MTTD during Operation Father Christmas period. Meanwhile, there are laws specifically passed on the seatbelt usage as a public health policy both internationally and nationally.
In Ghana, the road traffic act was enacted in 2004 and article 683 section 13 a and b of this law states "that a person of age 18 years or above who drives a motor vehicle on road or sit on the front or rear seat of a motor vehicle being driven on a road without wearing seatbelt commit an offence liable on a summary conviction to a fine not exceeding 100 penalty points or imprisonment for a term not exceeding 6 month or both." The law is not silent on seatbelt usage by minors and it is not ambiguous either. https://www.ijsrit.com/uploaded_all_files/3407625151_z8.pdf
Article 7 of the Vienna Convention on Road Traffic of 1968 states: "The wearing of safety belts is compulsory for drivers and passengers of motor vehicles, occupying seats equipped with such belts, save where exceptions are granted by domestic legislation." https://www.who.int/roadsafety/projects/manuals/seatbelt/seat-belt.pdf
In Ghana, the police stop vehicles, driver gets out of the car to bribe them in a distance in most cases. In rare occasions, such as operation father Christmas, when police inspect the vehicles, seatbelts are never on their checklist. Road worthy inspection is done periodically, but no particular attention is paid to the interior of vehicles including seatbelts. Besides passing an act on seatbelt usage, the police never bothered to enforce seatbelt wearing in the country. Media and most stakeholders in the sector do not talk about seatbelt and yet lament on lives lost and the severity of injuries through traffic accidents. Enough of the lamentations, let us start small and act now, starting with Operation Father Christmas 2019.
I am only a citizen and not a spectator, who is concerned about life lost or severely injured for not wearing seatbelt through traffic accident. And even when I am a spectator, I love to watch games, but not dead bodies scattered and severely injured vehicle occupants at accident scenes. Doesn't matter how far. JUST BELT UP!
Eben Johnson – Finland
(Letters Without Signatures)