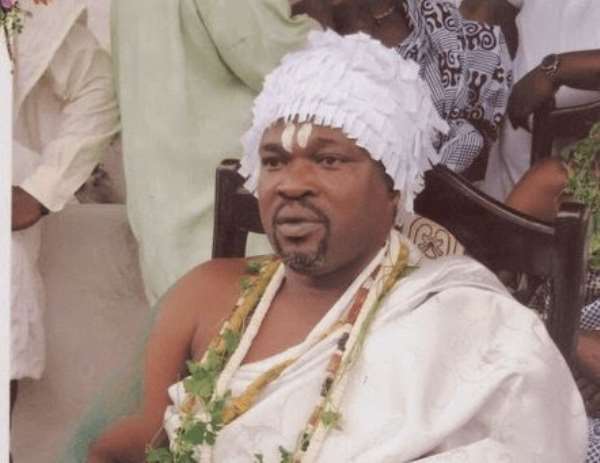 Numo Blafo III is the President of the GaDangme Council of Wulomɛi
Government's proposal to build a National Shrine for traditional worship, following a similar gesture for the Christian community, is being opposed by the intended beneficiaries.
Numo Blafo III, the President of the GaDangme Council of Wulomɛi (Chief Priests) is reported by graphic.com as saying the construction of a national shrine is not feasible.
Quoting copiously from an interview sourced from Citi FM, the graphic said the fetish priest said "I don't know how a national shrine is going to be like because we traditionalists have different ways of worship though we are all traditionalists.
"For example, a Tigare [a deity] worshipper will not be comfortable at the same place with somebody who is worshipping something else," he said.
On Wednesday, the Chieftaincy and Religious Affairs Minister, Samuel Kofi Dzamesi, announced the government has the intention to build a National Shrine for traditional leaders.
Addressing the media Mr. Dzamesi disclosed that some traditional groups have petitioned his Ministry for the construction of a national shrine which he said is being considered by the government.

He was of the view that the construction of a shrine is a step in the right direction since Christian and Islamic faiths in the country will have a National Cathedral and Mosque respectively.
"Since I took office, as I said, we have a national mosque and now we are in the process of building a National Cathedral. And a few times, some traditional groupings have also approached me. There was a group of Wulomɛi [Ga Traditional Priests] who also approached me and actually asked for a traditional shrine," he's quoted by GraphicOnline.
"I think that since the constitution allows freedom of worship, we will study it very well and see how possible that will also be. We are not ruling out traditional shrines," he added.

But Numo Blafo seems surprised at the development.
"Well, I'm only hearing about it. I think this needs to be interrogated properly because we are talking about a shrine," he cautioned.
---Myjoyonline.com