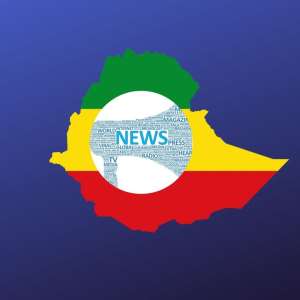 In the center of Addis Ababa, a rapidly changing city that appears to be growing higher with each passing day, politicians, academics, and journalists from all over the world gather to attend the World Press Freedom Day conference. Weaving in and out of the meeting rooms and conference halls where sessions are being held, a group of young university students (most of whom are amateur journalists) are meticulously documenting each and every session. They are taking photos. They are conducting interviews (if they are lucky enough to get a word in past the more experienced journalists attending the conference).
It is the largest event of its kind, and with its recent forty-place leap in the World Press Freedom Index (from 150 in 2018 to 110 in 2019), Ethiopia is seeking to present itself as a continental leader in press freedom and safety of journalists. But it's a narrative that is haunted by a darker reality. Despite its progress, Ethiopia has faced several challenges in its media environment, most notably the spread of disinformation and fake news, which has helped aggravate existing ethnic and religious tensions in the country. Most recently, the Ethiopian Satellite Television (ESAT) station accidentally broadcast a video which it said showed ethnic Oromos pushing the bodies of ethnic Somalis into a grave.
As with other countries, high social media consumption among youth (persons between the ages of 15 and 30) in Ethiopia means that this specific age group is particularly vulnerable to the threat of fake news and disinformation. Bethlehem, a 23-year-old journalist and graduate student at Addis Ababa University, noted that young people in Ethiopia are influenced by a culture where they do as their told and accept what they hear. Thus, they do not often check facts when reading stories and reports on social media. Another young student journalist, Eugene, argued that most youth do not think critically about what they read, and quickly "jump to conclusions."
A common assertion is that young journalists have an important advantage over older journalists in reaching out to young social media users and raising awareness of challenges such as fake news and disinformation. Dr. Carol Dralega, a professor of journalism at NLA College in Norway, argues that "young journalists have a unique opportunity to influence their peers and that "they should thus exploit this opportunity as journalists through both channels and content that young people use in order to fight disinformation and promote the virtues of good journalism."
In theory, this is a sound argument, but while most young journalists in Ethiopia are willing to work with their young audiences to combat the challenge of fake news and disinformation, they do not have enough trust or influence with them to do this. Martha, a 22-year-old graduate assistant in the department of journalism at Addis Ababa University and a part-time radio show host, believes that this is due in part to financial limitations and traditional hierarchy values. Furthermore, she argues that many young journalists simply do not have the skills needed to understand what the needs and concerns of their young audiences are, and that older journalists are trusted because they are seen as more experienced.
In an environment where trust in journalism is at an all-time low, it is troubling that the disconnect between young journalists and youth is high. Many of the persons interviewed, however, do not believe this problem is without a solution. Through proper media and information literacy (MIL) training and education, young journalists and their young audiences can be supplied with the tools needed to identify and combat fake news and disinformation. A part from providing informal trainings to media houses and companies, one of the ways to do this is by integrating MIL into school curriculums. Martha emphasized that the public in Ethiopia has little to no knowledge of MIL, and this is due to the fact that most schools in the country do not teach it. UNESCO, who has co-organized the World Press Freedom Day conference since 1998 and who recently published a guideline for journalism educators on teaching about fake news and disinformation, is one of the many agencies that is in a strong position to support Ethiopia's young journalists.
Another way for young journalists to increase their skills and built credibility is through the formation of journalist associations (of which there are very few to none in Ethiopia). By supporting one another and sharing experiences, young journalists can learn from their peers and older counterparts to deliver accurate reports and maintain public trust in journalism.
Through its hosting of the World Press Freedom Day conference, Ethiopia has indicated to the world that it is aware of its challenges. It must now go one step further by investing in the knowledge and training its youth in the areas of MIL. By doing this, it can sustain its recent accomplishments for many years to come through the achievements of its future seasoned journalists, who will be the victors in the fight against disinformation and fake news.
Written by: David Young - Youth Advocate and Consultant at UNESCO