Dzita Residents Resist Police Arrest Of Suspects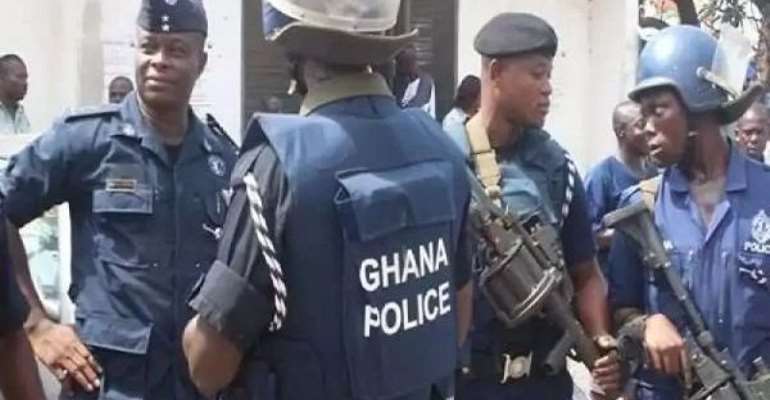 In what appears to be a show of support and solidarity by residents of Dzita towards their own; Francis Adzorlolo and Henry Adzoko who were arrested by a team of 16 armed policemen from Volta Regional Command and the Keta Divisional Quarters on Sunday September 22nd, 2019 between 1h00 – 3h00.
The manner of the arrest, attracted the residents who vehemently protested the arrest and the police sensing danger, l fled the scene. The fray led to Francis Adzorlolo falling off with the handcuff from the bucket of the police vehicle and sustained serious injury which he is nursing.
Dzita Township, a fishing community in the western part of Anloga in the Keta Municipality of the Volta Region, has been bedeviled with over twenty (20) gruesome murder cases and the inhabitants believed a Ghanaian based Nigerian ex-convict Victor Gbeyon Amegakpo who lives in the community is the main suspect and brain behind the numerous murder cases.
Most of the dead bodies discovered by the residents are either in a mangrove or shallowly buried at the seashore without vital parts. This development has virtually placed the residents whose livelihood depends on fishing and farming under perpetual curfew.
Residents recount to this website that, on Saturday May 25th, 2019, a groaning sound from Victor Gbeyon Amegakpo's room, forced some youths to break-in and ascertain what was happening. To their utter shock, a middle aged mentally retarded woman was discovered tied up to a bed and in the process of rescuing the woman, Victor absconded from the scene.
In search of the suspect, the youth ended up vandalizing his room and that of his mother. Victor has since fled from the town and due to his involvement with the police, the towns people believed the recent arrest of the Francis &Henry, is a betrayal from the Ghana police service.
Prior to the arrest last Sunday, there had been series of demonstrations and petitions by the residents to press on the Ghana Police Service to find those behind the killings and bring them to justice but received no significant response.
"We resisted the arrest of the two youths because evidence was provided to the police to the effect that, the two could not be involved especially Henry Adzoko who was not at Dzita on that fateful day, May 24th, 2019, hence cannot be linked to plight of the retarded woman which the police were effecting their arrest," Mr. Gabriel Gborgla a resident stated.
Another citizen, Mr. Kofi Aklamanu who was visibly angry, remarked; "The police cannot continue with this lawlessness. They must be compelled to release the innocent young man". The assemblyman of the area, Mr. Samuel Brass Dedzo, also registered his disappointment of how the police could come to a town to effect an arrest without any prior notice.
Meanwhile the chiefs and family heads of the town are calling on the citizens to remain calm as they work to have the boy released.