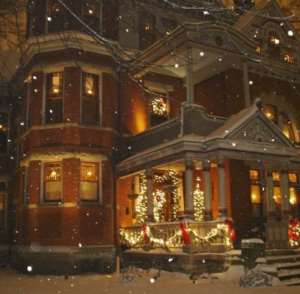 Kofi and Atta when to school, went to school
With a bunch of banana
Who will buy (2 times)
No comma
I will never buy comma
Sentence, full stop
No comma, I will never buy comma
It was so when Kofi will sing the above whiles getting home after close of school mostly, for it was his favourite song. Foto was one gentleman of the days. He had a shop close to the Bolga taxi rank where his Foto studio was housed together with a cement shop. His house was within the vicinity of the Anglican Church after the STC. Tenants in the house included Pastor Christopher Atampugre who was an Anglican priest. His children Moira and Stella and John Patrick were exemplary of the children of priests. There later was a forth daughter whose name I do not recall. Then was Mrs. Amoh who owned The Point Drinking Bar at Bolga Estates. The husband, Mr. Amoh had a Chemical Shop close to the Bolga Chief's Palace. Their children, Paulina (Adwoa), Kojo* and Kofi where dutiful – their elder brother Eric would visit at intervals for he lived in the Bolga Estates. Kojo was particularly a fun of animals – what white literature refers to as pets. He would keep a dove, a cat or something at different times of his life. This lifestyle was not common with sub-urban children in those days. The monkey, was one he kept for a longer time.
Foto's children included Gladys (Mama), Victor (Olman) and Isaac. Their mother, Mma Apoka was a petty trader in the same house. Opposite of the house was that of a retired Nabdam soldier. AKozo (Gurune version of Kojo) is the only childhood name I remember from that house. Gladys Azure' father was a farmer and their house was behind Foto's. Fotos' daughter, Mama together with Adwoa and I, attended extra classes at the home of the Azuntabas within the Bolga Estates while I was still in Zango. The sessions were manned by a Dagati bearded teacher who had extra ordinary skills in managing pupils. In his class were Sheila Azuntaba who later became Ms. Ghana, Mohammed Asumda whom we called Monrovia, and of course Gladys Azure whose father's house was behind ours. Like a team, children in Fotos house will walk across the Abole junction with so much care. At intervals, they would transit at the kenkey house right across Abole junction to buy, if a parent gave money and instructed same be done after classes. The kenkey vendor was a light skinned woman of Ga extract. Her husband, a tomato farmer was from Dulgo; his son Atibilla (Atibs) had an urvan bus with which he run his transport business from Bolga to Zua-rungo. Aha, I remember this, a little ahead of the kenkey vendor was a popular eatery (chop bar). The son of the vendor was a very skillful soccer star of our time – I think he was a pampered child.
Unlike the Zango home, Fotos' house had parents very particular about education. Thus at a time, the parents decided to hire a teacher to take care of all of us after regular classroom hours.
The Dictation Class
The classes were lovely and fun, for parents in the house would be around while these sessions would take place. They would laugh or encourage when need be. Then came the time for dictations or spellings as we used to call the session. Different words were assigned different pupils for spelling. Some got the word right whiles other wrong. It was the turn of Kofi Amoh and he had the responsibility to spell TEA. I recall the teacher say, "Kofi, spell TEA". Repulsively, Kofi bust out in Twi "Olman, spelli TEA – wu na wu papa taa num tea" transliterated to mean, Olman, spell tea, for your father regularly drinks tea. The whole house burst into laughter and those were fun days. Kofi was not really wrong with his response. The landlord and his family lived more of an English life. They would have regular breakfast of tea at the time that the known breakfast for many was corn mill porridge (kooko).
The Cat and the Dove - Isaac Remembered
Isaac was the third of the children of Foto. He was about the youngest of all the children in the house. They had a cat (I should remind that it was given to his mum by my mum for we had not enough space for the cat). Within the big compound, the cat hunted a dove. Quickly the dove was roasted and had to be shared by me for I was the oldest of the children in the house. I did share the dove into pieces in accordance with the number of the children. Isaac, unhappy with his share of the catch bust out "Tumam sakua ntun nyoke". Literally meaning I was unfair to him considering that, the catch was done by their cat.
Young Isaac was extra ordinarily interesting. He would call my mum his wife. He was about 4, perhaps 5 then.
The Christmas Chicken.
There is no special narrative on this except that we did justice to the chicken at Christmas. Sister Jenifer was /is my elder sister for there is no word like cousin in the literature of Africa. We were tasked to de feater the chicken and exactly so did we do. I bet we would not do contrary for my mum was a disciplinarian. Enjoy Sister Jenifer and me in picture.
Aging Alonga Morahi
She would visit at intervals. Her visits were not intended to be those of overnight stays. She would have a conversation with her daughter. I will see her off whiles she interrogate if my mum had been bothering me. I will tell her a few instance which by childhood standards considered being bothered. She would console and part with a few pesewas. At this stage, she would grumble about her two daughters, for she would expect more than she gets from them. She had particular challenges with my younger brother. He was left handed and seemed not to like the ways of the old granny. He would spank our granny with his left hand – a thing she didn't like.
Ladies and Gentlemen, if you enjoyed these bits over the weeks, be informed that, they are excerpts of the yet to be published book THE BLOOD OF AMORAHI. Do grab a copy at your neighborhood bookshop before close of year.