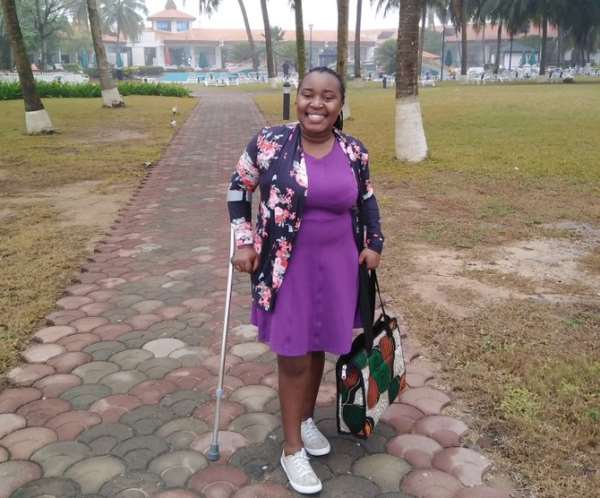 Wanja Maina
Ghana has designated 2019 as the Year of Return to commemorate 400 years since the first enslaved Africans arrived in Jamestown, Virginia in the United States.
The government has been running a massive marketing campaign targeting African Americans and the diaspora, and various events have been arranged but the problems with Ghana's Year of Return diaspora campaign to boost tourism has just started to unfold as one disabled visitor Wanja Mania shared her bitter experience after visiting the West Africa country.
There certainly are positive aspects to The "Year of Return" and the marketing activities that are being used to draw the world's attention to Ghana as the home for the African diaspora but there could also be some negatives.
Ghanaians rely heavily on tourists' expenditure for their livelihoods. The danger is that visitors are not so happy with the current state of customer service being offered to them. Key among these are the disabled community who are excited to explore the regions in Ghana but unhappy with how they're being treated.
According to Wanja Maina, a struggling Christian, Non-Conformist, Pan-Africanist Blogger and Disabled Speaker, when she got the chance to visit Ghana, she was initially excited until poor customer services offered to her in Ghana doomed her joy.
"I got annoyed on the first day, the second day then I just gave up and put up with the crappy treatment...till I left," she said.
She also sighted extortion as a major issue with workers at the Kotoka International Airport, adding that "I get to Kotoka Airport in Accra...the guy who was to help me immediately started "extorting me money..."
She narrated her bitter ordeal in a long thread fingering the airport and hotel she stayed at as the most trying experience ever.
In her long missive, she begun by saying "When I got a chance to visit #Accra , #Ghana , I was excited because I had a training to attend to (it was dope) & a chance to tour the city. My Joy was short lived in other aspects."
"One thing that I disliked the most about my stay in Accra, Ghana was the overall customer service attitude. It was for lack of a better word, 0/10. Compared to Kenya or the other places I have been, the overall attitude was messed up to the core."
"I got annoyed on the first day, the second day then I just gave up and put up with the crappy treatment...till I left... Let's start with the airport. So when one disabled it's always safer to ask for wheelchair assistance to save one from the frustration.."
"..of queues and immigration "harassment"..disabled people are referred to as "Passengers with limited mobility'... So I get to Kotoka Airport in Accra...the guy who was to help me immediately started "extorting me money"
"..more or less asking for a tip in an uncomfortable way..."sisto, you have to give me something SMO"...yadayada...I got so frustrated that I parted with $10..but not from my heart....(though I always tip,I find it uncomfortable when someone is asking).."
"Then the hotel....the people who paid for my trip and training put us up at a hotel that is supposedly the best in town...I got there...had to wait for like an hour to know where the room to sleep will be...mind you,jetlag and all..."
"I asked the reception where I would sleep and she said I should wait,upto when,she didn't tell me.Then she gave me a room that is furthest from the hotel reception.. furthest...I went and said it's too far and requested to be put up near the reception (training room)..."
"As if I was been punished for asking for a change,I waited for another 2 hours or thereabout...no update,nothing... So I get to the room,took a nap and all is well...the place was humid..Mombasa like humidity...the fridge was not working...I requested for a fix..."
"so that I could put water...it took like 3 hours for the person to come....the following morning it wasn't working again and within all my stay,it never worked...they would say it was working but when I open it is not...."
"The previous should have been part 9. The waiters and service people generally acted like they were being disturbed when asking for a service..one evening when we asked for drinks together with a friend,they came with the 6 drinks (three for each) then opened all..."
"they didn't want to get called again and again...Around the hotel area,the staff would only bother about their docket,ie when I asked the grounds man what time the swimming pool closes,he said it was not his docket, I should ask the swimming pool people....."
"I mean, generally people should have clues about other departments where they work,no? In the city,when I went for a drink,I asked for a pepsi..since they didn't have it,they just brought coke and opened...I was like,wow..."
"Then on the final day of checking out it was raining...the guy went to the room to pick my bag and he didn't bother to put something to protect it from the rain...my bag and my friend's bag was all rained on..."
"Did I tell you that I got food poisoning and when I was leaving for the hospital the best thing the manager told the doorman to tell me is "the hotel was not liable for my hospital bills?)"
"Ghana is well endowed with Beautiful coastlines and rich cultural heritage including the slave trade dungeons that carry a deep history of slavery..."
"...they are trying to get black Americans to come back and even settle but unless they get it right on the customer service,they will never really be able to tap into their "tourism gold mine"
"When I asked my Ghanaian friend if I am the problem or if that's how customers are treated(I also gave her instances and examples above) she told me: "That is Ghana ooo"...they are so used to poor customer service that they don't have a benchmark for good service..."
"PSS..I was sleeping at La Palm Royal Beach Hotel (Rated 5 star with 1/2 star treatment) Me, in the city.I was trying to find the gate to the Kwame Nkrumah Museum because none of the people there knew where it was,including the hawkers."
She further left a note for the Ghana Tourism Authority saying, " @ghanatourismGTA ,I noticed you are trying to get blacks in America, Europe, Caribbean and the indies to come back "home"..."
"Goodluck with that but then,how is your customer service right from the airport to the hotels?Too low to benchmark with anything.Come to Kenya's coast and learn from"
Commenting on the issue, another lady Abena Serwaa also revealed how her disabled sister went through a similar airport situation. "My sister has impaired vision so always asks for a wheelchair. She just arrived at the airport this evening. No one showed up with a wheelchair to help her. She was very frustrated..."
Source: NetbuzzAfrica.com