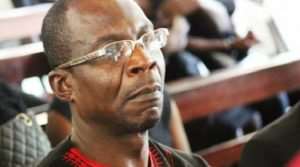 Edward Adeti's house was broken into three days after the minister resigned.
The Ghana Journalist Association is asking Akufo-Addo government to provide security for Edward Adeti' the reporter whose investigations led to the resignation of a Minister of State, Rockson Ayine Bukari.
Minister of State at the Office of the President, Rockson Bukari resigned, following a leaked audio tape in which he is heard allegedly trying to suppress the publication of a damning story against a mining firm and a judge in the Upper East Region.
Speaking at the World Press Freedom Day 2019 celebrations in Accra, today, President of GJA, Affail Monney admonished journalist to remain steadfast and rid the society of corruption.
"World Press Freedom day provides an opportunity to synergy and sharpen our weapon to deal surgically cancer of impunity which fuel that attack and threats of journalists. The latest of such threats was faced by an FM report in Bolgatanga whose investigative work caused the job of a Minister of State at the Presidency, Rockson Bukari."
"The reporter refused to accept a bribe to squelch the damaging story. We vehemently contempt the threat and robbery perpetrated against the report as we urge the national security to move with urgent promptitude to provide all the protection he desperately," he said.
The government of Ghana through the Ministry of Information has pledged to improve the safety of journalists as they carry out their mandate in the country.
It said it is hoping to do this with the introduction of a Coordinating Mechanism on the Safety of Journalists which will be ready before July 2019.
The Ministry in a press statement on the occasion of World Press Freedom Day said the government is committed to supporting measures that will strengthen press freedom and free expression in the advancement of Ghana's democracy.
Reporters Without Borders in its recent World Press Freedom Index saw Ghana lose its spot as one of the best-ranked countries for press freedom
The drop was attributed mainly to the murder of investigative journalist Ahmed Hussein-Suale earlier in 2019.
Globally, the country dropped from 23 in 2018 to 27 in 2019.
---citinewsroom