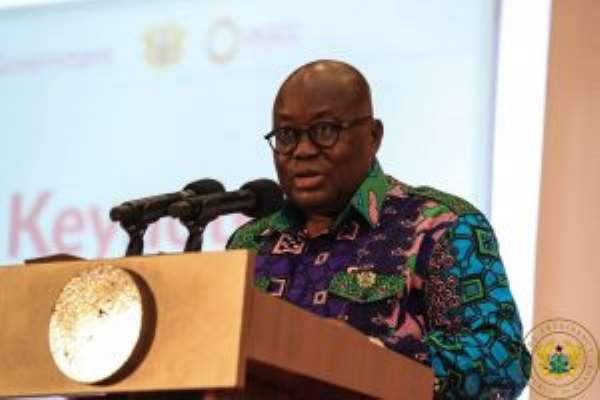 A relative of one of the seven men who were wrongfully shot and killed by the Kumasi Police in 2017 is dissatisfied with President Nana Addo's compensation package to the affected families. Ahmed Salim said though the President's decision to offer some GHC 1.7m to families of the victims is commendable, he needs to go the extra mile by ensuring that the guilty police officers are brought to book.
The President on Tuesday announced compensation for the families of the deceased and assured that justice will be served.
Ahmed Salim on Eyewitness News said the President needs to back his words with action.
"Indeed, we have welcomed the decision of the President on the package given, but we have certain reservations. The continuous stay of the Regional Police Commander, we feel that his Excellency the President and the government and its entirety is working on the recommendations the committee gave. The report clearly stipulates that those killed were never armed robbers and there were no facts to establish that they indeed exchanged bullets with the Police.
"We were thinking that the IGP should have interdicted the Police Commander and those men who acted in this serious matter before anything serious will go on. An assurance [to prosecute police officers] from the President is satisfactory but pending their incarceration we will not be satisfied."
The killing of seven on July 7, 2018, triggered outrage and anger in Zongo communities in Kumasi with residents insisting on the innocence of the seven.
The seven-member government committee subsequently tasked to investigate the shooting incident at Manso Nkwanta in November 2018, found no evidence to suggest that the seven persons who were shot and killed by a Police patrol team were armed robbers as the police claimed.
There was some agitation within the Zongo community due to the delay in the release of the report.
21 police officers found to be involved in the killings were recommended for interdiction by the Police administration according to a Ministry of Information statement.
"The twenty-one police personnel involved in the incident who have been found to be the principal suspects be interdicted by the Police administration and be subjected to formal police criminal investigation into the matter."
The government in that statement also pledged to support the dependents of the deceased victims.
–
Source: citinewsroom.com| Ghana