Suspected Ebola Case In Sweden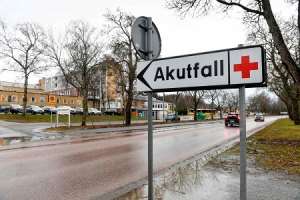 A patient suspected to have symptoms of Ebola was admitted to the hospital in the Swedish city of Enköping and later transferred to an infectious diseases clinic in a neighboring city. The patient is now at the Uppsala Academic Hospital.
According to the regional authorities, the results of the virus test are likely to be ready in the evening. It is emphasized that there is only a suspicion of Ebola and "other diseases are quite possible."
The emergency department at Enköping Hospital was temporarily closed, and medical staff who came into contact with the patient are under supervision.
According to local media reports, citing the authorities in Uppsala, three weeks ago, the patient returned from a trip, one of the points of which was the African state of Burundi.
However, there is no information that the patient visited the areas affected by the Ebola virus, the publication emphasizes.
Samples taken from a patient in the emergency room at the hospital in Enköping, in eastern Sweden, with suspected Ebola, did not confirm the suspicion of the virus.
It is explained that the patient turned to the hospital doctors on Friday in the morning after vomiting with blood. Since he recently returned from a trip to Burundi, even though didn't visit any of the Ebola registered countries, the test is necessary to determine the course of his ailment.
The patient was immediately isolated and appropriate measures taken in relation to the health workers who were in contact with the patient.
Every country in Europe and America have taken tough measures to prevent anyone suffering from Ebola disease or having hidden symptoms to enter into their countries, yet the disease which occurred in West Africa and Liberia aren't natural causes. Sad Africa, indeed, because of incompetent leaders.