Until We Have A Viable Alternative, Let Us Keep The Boarding School System In Ghana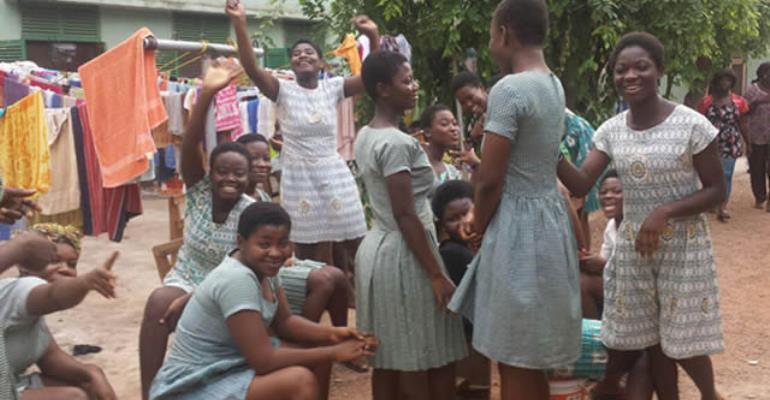 Early this year, the novelist, Prof. Ama Ata Aidoo, suggested the need for the boarding school system to be scraped. Dr. Nii Moi Thompson has repeated this call. I respect their opinions, but in the following paragraphs, I will explain (using partly my own life history) to argue that until we have a viable alternative to the boarding school system, the system should be kept.
My reading of the history of education in Ghana has it that the European missionaries introduced the boarding system to provide a special enclave where Ghanaian students could complete their enculturation process. Since the schooling system was part of the evangelism strategy of the European missionaries, the boarding school system was necessary, from the prism of the missionaries, to help in de-culturalising Ghanaian students. It was also part of the grand mission of the missionaries to wean Ghanaian students from their 'pagan' past. In short, the boarding school system was part of the strategies to achieve the 'civilising mission' of the missionaries. The white man's burden of 'civilising' Ghanaians was to be unburdened through the boarding system of education.
But what we have not really discussed as a nation is why we have continued with the boarding school system in postcolonial Ghana. Why did a voluble Pan-Africanist and Afrocentric bent thinker, Kwame Nkrumah, continue with the boarding school system when he took over from the erstwhile colonial administrators? This question is important because, as part of the nation building strategy, Nkrumah attempted secularising Christian mission schools, by ensuring that pupils who attended such schools were at par with their contemporaries in other government schools, in terms of the content of the syllabus. Did Nkrumah see anything good in the boarding school system?
Dr Nii Moi Thompson did not inform us about what is it about the boarding school system that he thinks must be discontinued, apart from the cost involved. My guess (and rightly so) is that he is looking at the colonial history of the boarding system. Besides, he thinks the boarding system is simply a 'waste' of resource to the nation. Is investing in a prudent means of transmitting knowledge ever a waste of resource, regardless of the amount involved?
Certainly, I see some sense in Dr Thompson's argument, but, on the whole, I think he is not factoring in the major reasons that have sustained the system and the functionality of the system in postcolonial system of education in Ghana. More so, he is speaking from an elitist perspective, whose children can afford decent environment to study, even if they are not in boarding school. Of course, this cannot be said of some of us in urban slums in Accra.
By the time I went to West Africa Secondary School (WASS) for my senior high education in 1998, the school had discontinued its boarding system. Before WASS was transferred from Accra Newtown to Adentan, the school had a boarding system. But things took a different turn when I got admission to the school. Thus, while I had had day school system for my primary and junior high education, I envisaged that senior high education would offer me the crucial training to transition me to tertiary level of education. But because of parental poverty, I decided to go to a day school. Even so, WASS was my first choice - I have never regretted attending that great school.
As a day student, coming from Maamobi, an urban slum in Accra, which had no public library (at the time), it was quite difficult engaging in any serious academic exercise. The only library available to the community was the one operated by Goldfields Ghana Ltd (around Kawokudi junction). But it was open to only tertiary students and staff of the company. And so, Alhassan, Kwaku Kyei and I had to sit behind the library to learn. At the time, the back of the library was bushy, and so we had to be vigilant to fight the menacing threats of snakes and other poisonous animals. Learning on stones, as well as lying on bare floors, was neither a covetous nor pleasant experience.
Again, at the time I went to senior high school, it was easy to count the number of residents of Maamobi in senior high school. And, for those of us with parents who had no stint with senior high or tertiary education, we had to depend on ourselves (however we could) to do our assignments. In the end, being a day student was simply a difficult status for those of us in urban slums. Working and schooling to support one's education (as is the case with most slum dwellers) was also a major obstruction to any serious academic pursuit.
In 2001, when we were preparing to write our SSCE - Senior Secondary Certificate Examinations (now WASSCE), some of my colleagues had to relocate to sleep in the classrooms at WASS. I remember how Stephen Azundem (now a minister of the Presbyterian Church of Ghana) and some of our colleagues had to convert classrooms into sleeping rooms to prepare for SSCE. Some of us could not join them, because we could not abandon our casual work to support ourselves through schooling.
Fortunately, three months to writing SSCE, my good friend, Abraham Kwesi Atakora, suggested to his father that he wanted me as study mate. Since his family was a resident of East Legon (elite community in Accra), his father accepted to host me. His father, in addition to providing me accommodation, accepted to give me pocket money, transportation (getting us driver to take us to and from WASS) and food. That was simply a blessing. It was also a respite from the challenges in urban slum. For the first time, I found myself in a room with table and chair to learn. I could also read other books, in addition to my schoolbooks. I also made use of the books Atakora's senior sisters, who had finished SSS many years ago, had used.
Like a new bride, I enjoyed the new ambience and indulged all the privileges that came with it. But, in my attempt to make use of the three months, I denied myself regular sleep, and read throughout most of the time. The price I paid for not having enough sleep was that, a day before English oral examination, I was struck down by fever. I became so weak that I was unsure whether I could write the exams. I quickly rushed home to receive my mother's prayers, knowing how her prayers had helped me in the past. Graciously, she supplicated God (and taking some drugs) and it worked. I was able to write the oral exams. But on the day of social studies exams, I was so sick that I did not know what I was writing. But the good news was that I passed all the subjects I registered for and qualified for university education. No remedial exams!
Today, I look back and think of the blessing I received from Mr. Atakora's house (my 'boarding house'). The unbearable noise - human and machines - and the riotous life in urban slums (like Maamobi) make such communities less ideal for efficient education. The fact that most parents in urban slums are illiterate (from the angle of western education) makes their ability to support their children's education paltry and insufficient. In the same way, parental poverty stifles the education of most pupils in urban slums. In my case, I was able to buy my first textbook (Cocastic Cola - an economics book) in second year of senior high education, after I had worked temporarily for the electoral commission of Ghana during the 2000 general elections.
Now philosophically, education, at least as envisaged by Socrates and Plato, is to be organised in a serene environment. Plato's philosophy of 'philosopher-kings' and the training they should receive is a quintessential example of how education should be structured and the kind of environment it should be afforded. Education should be held in an environment that has all the necessary facilities to support the transmission of knowledge. Nothing should obstruct the transmission of knowledge. In other words, for education to achieve its avowed aim of knowledge transmission and nurturing of character, there should be the availability of libraries, quiet environment, peers with similar interest, and effective teaching methodology (pedagogue). If noisemaking and the absence of library would (and they do) impede the achievement of the lofty goals of education, then we cannot afford to abolish the boarding school system.
Urban slums do not have the regimental life that accompanies education in boarding schools. In fact, for most of us who are residents of urban slum, our lives revolve around school and work. We straddle work and school, and pay less attention to schooling. Reading, which started as leisure, is still a leisure for most slum dwellers. We hardly find time to read. The books are either not there or the quest for survival will not afford us time to read. In the boarding house, at least, the slum dweller will have a break from the hustle and bustle of urban slum to read and embark on meaningful education. In terms of broadening the social network of slum dwellers, the boarding system is ideal. Two weeks ago, I watched the amazing story of Abiola Bawuah, MD/CEO of UBA, Ghana, and I was impressed when she said that it was during her days as a boarder at Achimota secondary school that she connected with children from affluent families, who contributed in shaping her future. As to what would have happened to her (from poor home) if she had not had the chance of going to Achimota secondary school, your guess is as good as mine. And for most of us from the villages and urban slums, basic table manners, such as the use of cutlery (that may sound trite and basic) are learned during our days in boarding school. Until, we are able to create that atmosphere for those of us in urban slums, we should keep the boarding system intact.
Concerning how to sustain the free senior high school policy, particularly in the area of feeding, the pupils should be taught how to cultivate the land. With the introduction of the double track system, pupils, during their long holidays, should be trained in basic farming. Mechanised farming system should be introduced, where pupils would be engaged in tasks such as sowing seeds and aiding farmers. With this, I have in mind, the recapitulation of the policy of Operation Feed Yourself - which Colonel Ignatius Kutu Acheampong had introduced during his regime in the 1970s. Feeding is very expensive in Ghana, and so if pupils - instead of continuous learning during the long break, which may not be helpful to their health (in the long run) - are engaged in less intensive and machine-assisted farming, Ghana should reach the level of food security. We should also be able to cover the cost of feeding pupils.
In terms of the fecal waste that Dr. Thompson talked about, I see our lack of technological advancement emerging in his argument. We simply need to lift our technological thinking a bit and see human waste as renewable resource. If my information is right, I am told Valley View University recycles human waste. This can be done, if we indulge our thinking into how we can create resource out of 'waste'. Dr. Thompson also talked about providing buses to communities. Here, the good professor remained oblivious to the bad road networks in Ghana, particularly in rural areas. Obviously, speaking as an urbanite, he can hardly identify with the bad road networks we have in the countryside. Has he forgotten that providing buses and fueling them regularly will also add to the cost of senior high education?
If anyone thinks education is expensive, we should try ignorance (to quote the words attributed to either Derek Bok who was a President of Harvard University or Ann Landers who was a popular syndicated advice columnist). Education is expensive, but it is worthwhile investing in it. My peasant father, the late Anthony Prempeh, knew the benefit of education and invested his meager salary into my education. He knew the liberating spirit of education and made the most investment. If my poor father did it, why can't Ghana?
In the 21st century world, we have shifted from material resources to knowledge resource. What this means, to reference the philosophy of Yuval Noah Harari, is that nations that control knowledge and its distribution are tipped to rule the world. Ghana cannot continue to depend on her material resources in the 21st century world to be competitive. If Ghana desires to make a mark in the 21st century world, then the country must reach the level of knowledge revolution. Every resource must be invested in education. And until there is functional differential to boarding school system, the government should continue to pour in every cedi to sustain the system.
In the sixteenth century, Sir Francis Bacon (a scientist and philosopher) was right when he presciently said, 'knowledge is power.' Centuries after this statement, the world has come to a point where knowledge is all we need. Ignorance is expensive. Ignorance is also enslaving. Knowledge is liberating. The Bible said that people perish because of ignorance. Mohammed, the prophet of Islam, also told his followers to seek knowledge even if it meant going to China (meaning spend every money to seek knowledge). In the contemporary world, those who rule the world are those who have knowledge in their possession. As I write, millions of dollars are invested in Artificial Intelligence research, because that is the new focus of contemporary civilisation. Ghana cannot afford to cry over spending on education.
To recap, until children in urban slums can have serene environment for learning and knowledge acquisition, government should invest in the boarding school system. Until there is an alternative to the boarding school system, we should not be quick to abolish it. In any case, the colonial reasons for the boarding system was buried about sixty decades ago.
Satyagraha
Charles Prempeh ([email protected]), African University College of Communications, Accra