Ghana bleeding from brain drain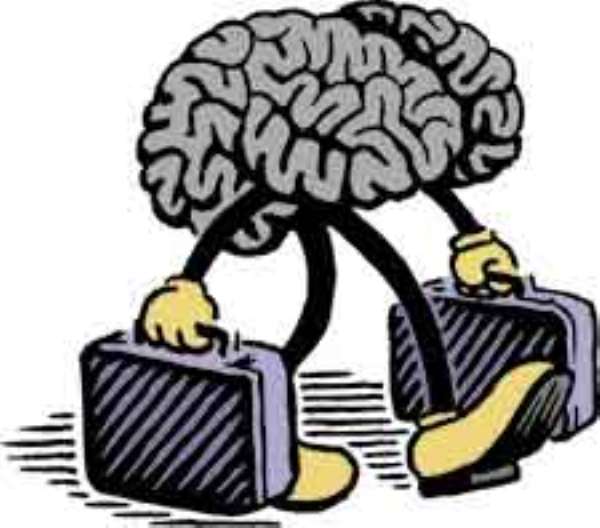 ... calls to patriotism disregarded ... brain drain causing considerable damage to Ghana Accra, DPA, Oct 31 -- It is no news in Ghana that the country is suffering from brain drain. Its doctors, nurses, teachers, engineers and other professionals have for many years packed up and left the shores of their West African homeland in search of greener pastures.
But a study by the World Bank, quoted by the media in Ghana, that puts it second on a table of bleeding Third World countries after Haiti accentuates the helplessness of the situation.
A World Bank study on census and population, published this week in a book titled International Migration, Remittances and Brain Drain, said that 47 percent of Ghana's college-educated citizens were living abroad.
"For a country with about half of its graduates missing, one has to worry," the report said.
"The exodus of skilled workers is a symptom of deep economic, social and political problems in their homelands and can prove particularly crippling in much-needed professions in health care and education."
Several sectors have been hit very hard by the exodus of highly qualified workers, who have trained at taxpayer expense but have left over severe economic hardship and low pay, poor working conditions and lack of job satisfaction.
Although working conditions have improved since the late 1970s, when more than 1 million Ghanaians swarmed into Nigeria only to be deported in 1983, there is still a long way to go.
The official daily minimum wage is just over US$1, and for many workers, especially in the public and civil service, life can be a daily fight for survival. Many unskilled workers take extreme risks, including walking across the Sahara Desert to enter Europe illegally.
Young graduates and professionals seeking to establish themselves, live comfortably and build secure futures disregard calls to patriotism and flee the country at the smallest opportunity.
The statistics are stark but abstract, yet the havoc wreaked by the exodus is real and debilitating.
In the health sector, for example, Agyeman Badu Akosa, director general of Ghana's Health Service, was quoted as saying that the public health system was virtually collapsing because it was losing not just many doctors but especially its best ones.
"I have at least nine hospitals that have no doctor at all, and 20 hospitals with only one doctor looking after a whole district of 80,000 to 120,000 people," Akosa said.
Women with complications in labor all too often suffer terrible complications or death for lack of an obstetrician, he said.
At universities, lecturers, especially young faculty members, have been leaving in droves, leaving older instructors to shoulder the burden. A study in Ghana found that with only six doctors for every 100,000 people, the country has lost three of every 10 doctors it has educated to the US, Britain, Canada and Australia -- all countries with at least 220 doctors per 100,000 people.
Nurses have high value in the developed world and have also been abandoning their posts in high numbers. The problem extends far beyond health care.
In a typical case of loss of "brains" because of poor pay, the country's oil refinery was crippled recently when 14 trained engineers left for the Middle East, where they were offered better salaries and working conditions.
The Tema Oil Refinery (TOR) shut its Residual Catalytic Cracking plant, which produces liquified propane gas and petrol, saying it was for routine maintenance, but some workers at the refinery said the brain drain compelled the authorities to halt production.
Authorities were quick to announce a 40 percent salary increase for staff of the refinery, lest more trained staff quit. The workers had said that earlier attempts to negotiate new salaries had failed.
Clearly, the brain drain has been causing considerable damage to the development of the country. The World Bank report notes that though remittances and investments in Ghana reduced poverty and were a major source of foreign exchange, the broader implications were "complex."
It said that policies may be needed to raise incomes of professionals in their home countries.
With Ghana being one of the world's highly indebted poor countries, it may yet be a long time before incomes are raised high enough to convince highly trained citizens to stay, let alone lure back those who have left. This story has been viewed 68 times.