Who Killed The Judges: The Voice Of A Patriot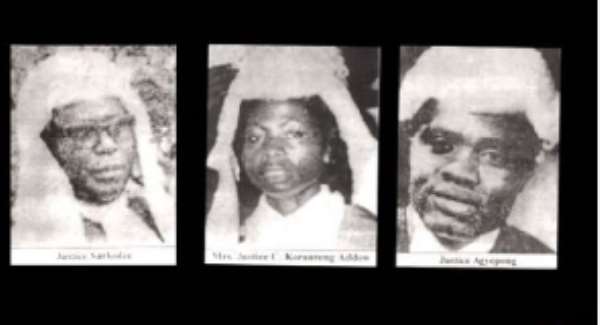 The murder of the 3 High Court Judges on 30th June, 1982 which is one of the atrocious acts our country has suffered and still suffering all because justice wasn't served has been the prominent darkest day in the history of Ghana.
In fact, on 2nd October, 2018; the long awaited documentary that was shown on Joynews presented by Raymond Acquah send us to a pitiful manner.
When I was young, my father told me the story of it, a friend father who is a die hard supporter of J. J. Rawlings defended it , so I was in a horn of dilemma to justify the truth until the documentary was shown.
As Patriotic citizens, we bare the pertinacity to develop the ability to evaluate information and reach accurate conclusions. Our failure to cultivate this ability, we will be far more vulnerable to philistinism and obscurantism will distort our thinking. Of course, only if we have the facts can we reach right conclusions. One such principle is that it is foolish and humiliating to reply to a matter before hearing the facts. I don't want to be guilty to leads distorted judgments that are not based on the facts. It is the tendency to judge matters based on the outward appearance.
I felt apprehensive about such abominable acts by the perpetrators from the security agencies.
I thought as we have gained independence from our colonial masters such brutality will end. Not knowing we are our own enemies. How can we kill ourself as if we are killing wildlife? How come they saw these learned Judges as Monsters?....Hmmm...!!
As Abraham Lincoln said "My concern is not whether God is on our side; my greatest concern is to be God side, for God is always right ". I know justice hasn't been served, but we pray to the Overall Chief Justice "God " to deal with this matter before Armageddon reigns.
It sudden part is how they lured a nursing mother and shot her leaving the baby orphan...Ahhh!
In fact we need divine interventions else Ghana we wish to see the best for it might end up been the shadow of a hurricane. I now understand why upon the overwhelming resources we still seeks loans and bonds for developmental projects. Aaahaa.....True talk, except I am being so superstitious.
I can unequivocally say that, the impact is adverse and as our country with it voluminous resources we still suffer because we are rearing sycophants, greedy, selfish and wicked beings. Some perpetrators are still walking around claiming they bare the growth of our country in heart but forgetting the flagitious they have drown the nation into.
In deed justice has not been served to our martyrs. Let's take a minute to remember our martyred innocent judges.
Hmm! I side with why the mother of Justice Cecelia Koranteng Addo mother said, she will not forgive such perpetrators. It is irritating indeed.
It is difficult to forgive if justice has not been served as she knows and believes the perpetrators are still in "town". We leave everything in the hands of God since he is the chief CID who knows the details of such criminality.
I understand steps were taken to seek justice but there were politricks. For it's repercussions of the incarceration , we need divine intervention.
Individuals, families, and whole communities felt the economic, social, and psychological ramifications in 1983. Let's pray not to experience such doldrums economy again.
I now understand why people chastised John Mahama for pardoning the Montie trio, It was really bad, it was grand finale to use them as a scapegoats to uphold and defend the Judges securities.
The law is made for the benefits of mankind but if it's been capriciously to the wellness of the people, why should it exist? If the president has the power to pardon criminals including murderers, he also has the power to sign death sentence to kill murderers of our time. Is that not so?
There are some decisions one doesn't need an elderly person or counselor to advise us on. We need to uphold our integrity to the fullest.
We need to find our coarse. Ask yourself, What are you going to fight for? Let's hold the duty to seek justice for the masses through social advocacy. I sometimes peeve when because of ignorance one is been denied by justice. Henceforth GLC if you truly want justice for all Ghanaian then I urge you to hand the professional program to all competent Faculty of Law to enroll and train Lawyers.
To be effective, we sometimes need to narrow our attention to a specific cause. Something that grabs our heart, tugs at our soul and fuels our passion into action. It may be that you've experienced injustice in your own life and know firsthand what it's like to go through an event that caused so much pain and a great deal of suffering.
We simply need to act. We can not sit idle as many living in our world today, living in loyalty to a political party instead of being loyal to a country, breathes in extreme poverty which sometimes leads extreme injustices. Not on our watch! The number of injustice in our courts are overwhelming.
"It is the responsibility of intellectuals to speak the truth and expose lies" as said by Noam Chomsky.
I wish Judges should be tried on their judgments that's what I believe it can reduce the rate of injustice that is actually happening in our time. We lock up, freeze and do nothing. This is a common reaction. Largely because again, we live in a culture where little suffering exists compared to the world around us. Let's all eschew injustice. Justice should be easier to attain not to toil for.
Hence Leaders of our time, let's see the passion in your duties, be faithful ,a bit patriotic and owe our lives to be successful.
COLUMNIST: GOODNUFF APPIAH LARBI