Freemasons Bid Farewell To Justice V.C.R.A.C Crabbe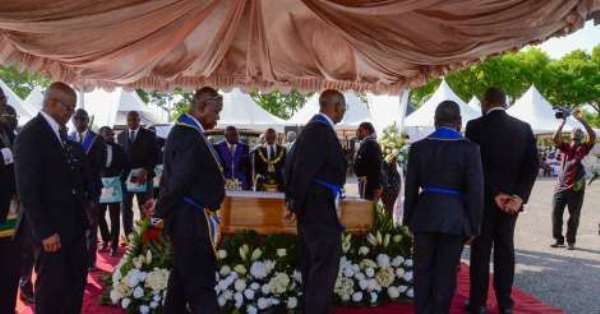 Members of the Grand Masonry Lodge were fully represented at the funeral of the former Supreme Court Judge, Justice V.C.R.A.C. Crabbe , who was a member of the lodge to pay him their last respect.
Among those at the funeral rites of the diplomat was Aggrey-Orleans among others.
Some Freemasons in masonry wear filed past the coffin and surrounded it for their ritual masonic funeral rites.
V.C.R.A.C Crabbe was laid to rest on Thursday, October 4, 2018. A state funeral service was held at the Accra International Conference Centre.
In attendance were President Nana Addo Dankwa Akufo-Addo and his wife Rebecca Akufo-Addo, Vice-President Dr Mahamudu Bawumia and the Speaker of Parliament, Prof. Mike Aaron Oquaye.
Other dignitaries included former President Jerry John Rawlings and former President John Mahama as well as parliamentarians, government officials among others.
The Freemasons are a secret society that falls down slightly on one of the vital elements of being a secret society - the secrecy.
Everyone's heard of them, most people have a rough idea of what goes on behind the Lodge doors and there are a lot of notable people that have publicly admitted to being masons.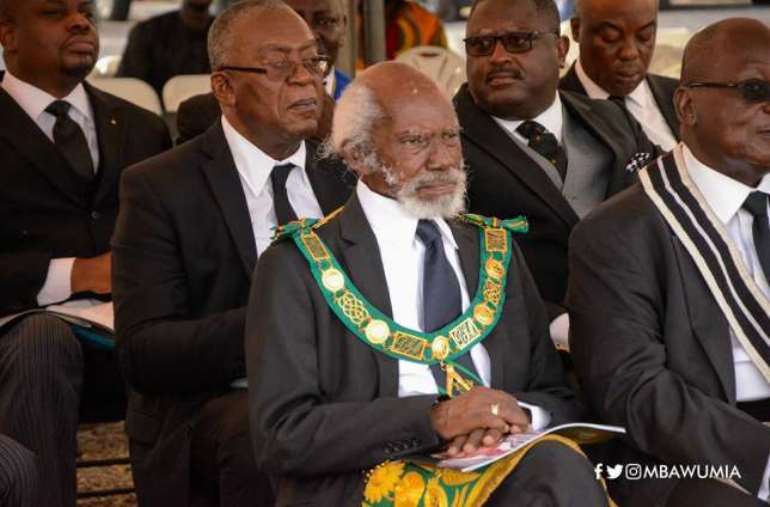 V.C.R.A.C. Crabbe is a Freemason
Freemasonry is one of the world's oldest and largest non-religious, non-political, fraternal and charitable organizations.
Its roots lie in the traditions and ceremonies of the medieval stonemasons who built our cathedrals and castles. Some rituals are still celebrated today.
Freemasonry has always been about making good men better. Individuals aim to shape their lives round five core principles according to the official website of the United Grand Lodge of England (UGLE). About Crabbe
Justice Crabbe was born on October 29, 1923 at Ussher town in Accra and had his early education at the Government Junior and Senior Boys Schools in Accra.
He attended Accra Academy for his Cambridge Junior and Senior School certificates and went to London to study Economics at the City of London College Moorgate from 1950 to 1952.
The late retired Supreme Court judge, Vincent Cyril Richard Arthur Charles (V.C.R.A.C) Crabbe, before his death was a Professor of Law at Mountcrest University College in Accra.
He was also a former Professor of Law at the University of West Indies.