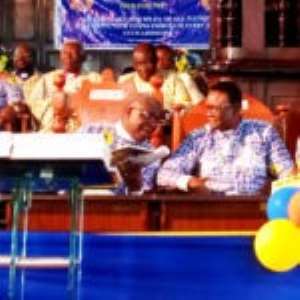 The mother of the Methodist Church Ghana in the northern sector of Ghana, Wesley Methodist Cathedral at Adum in Kumasi, has celebrated her 180th Anniversary under the theme: "Celebrating the faithfulness of God".
As a result, a durbar has been held in Kumasi to climax the celebrations, which began in February this year.
The Adum Wesley Methodist Church, Kumasi Circuit, is a product of the work of Thomas Birch Freeman in 1938.
He is regarded as the Father of Ghana Methodism, because he rendered the longest missionary service of about 52 years, during which Methodism took root in Asante.
This, however, could not have been possible without the royal patronage of Nana Kwaku Duah, who was the first Asantehene to officially invite Rev. Freeman to Kumasi, as an indication of the Asante dynasty to accept Christianity.
Even though Adum Wesley Methodist had existed since1838, it was in 1916 that the foundation stone of a new building, which is the present Kumasi Wesley Cathedral, was laid and the Cathedral has been a pedestal where a number of ministers have served.
From very humble beginnings, the Methodist faith was planted in Ashanti by Reverend Freeman and has grown into 39 circuits in the Kumasi Dioceses, while the Effiduase  and Obuasi Dioceses have nine and 18 circuits, adding up to over 600 societies.
As part of the durbar, past and present Methodist ministers and lay leaders delivered goodwill messages, while a special message was delivered on behalf of the Catholic Archbishop of Kumasi, Most Reverend Gabriel Justice Anokye, who emphasised the need for the congregants to be committed, dedicated, and utilize every gift and talent for the continuous growth of the church.
He expressed worry over the growing decamping of members of the Methodist Church and Roman Catholic Church to charismatic churches, and called on both churches to up their game.
The Coordinating Director at the Ashanti Regional Coordinating Council, Mrs. Emelia Botchwey, delivered a message from the Regional Minister, Mr. Simon Osei-Mensah.
In a sermon, the Administrative Bishop of the Methodist Church Ghana, Right Reverend Dr. Paul Boafo, who is the Presiding Bishop-elect, urged Christians to always rely on the faithfulness of God.
He also admonished Ghanaians to embrace social holiness, since it will correct undisciplined acts in the Ghanaian society.
Dr. Boafo called on Christians not to renege on their duty to pray for Ghana.