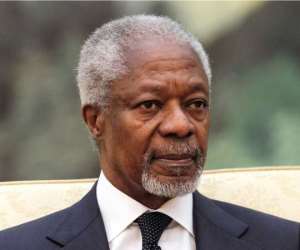 Some Ghanaians have expressed the wish for their children to grow and become 'a Kofi Annan' to continue the good work of the former United Nations Secretary General being mourned the world-over.
They say Kofi Annan, who many international personalities got to know about Ghana through him, was a best example for Ghanaian children to emulate.
'We want our children to be a Kofi Annan one day. And even go beyond what Mr Annan was able to achieve for the world' Reverend Obed Asamoah, Senior Pastor of Gospel Faith Ministry in Accra said as he prayed for some young members of the church who had gained admission to enter Senior High School.
'I pray that Ghana's next Kofi Annan comes from amongst you. We need many more Kofi Annans who would build and develop Ghana and the world at large' Rev Asamoah noted.
Some of the church members who interacted with the GNA on Sunday also admitted the fact that Kofi Annan really put the name of Ghana into a higher pedestal having risen through the ranks to become the seventh UN Secretary General from January 1997 to December 2006.
They said they would love to have their children learning hard to rise to such status as Kofi Annan got into before his demise.
Meanwhile, many Ghanaian institutions that Kofi Annan headed including; the University of Ghana, have held memorial services in his honour, while both local and world leaders have paid glowing tributes to the man who helped to push the agenda of world peace into a higher pinnacle.
In a related development, Mr Michel Sidebe, Executive Director of UNAIDS, has in an article paid glowing tribute to Kofi Annan, describing him as a 'shining light of Africa', who has left behind millions and millions of blazing bright spots in every corner of the world.
'An African at heart, a global citizen in truth, Kofi Annan symbolised the best of humanity. As United Nations Secretary General, his contributions to society spanned across continent and covered multiple issues. He was a rabble rouser, trouble-shooter, change-maker-all combined in one'.
The mortal remains of Kofi Annan arrived in Ghana on Monday, for the start of his State Funeral, which would be lasting for three days.
The Former United Nations Secretary-General and Nobel Peace laureate died in Bern, Switzerland, after a short illness, aged 80.
His state funeral would begin on Tuesday, September 11, and end with a private burial on Thursday, September 13.
Kofi Annan was devoted to humanitarian services and global peace, initiating the Millennium Development Goals to minimise poverty around the world.
He attended the elite Mfantsipim School, a Methodist Boarding School, from 1954 to 1957.
He joined the Kumasi College of Science and Technology in 1958 for a degree in Economics and then undertook Graduate Studies in Economics at the Institute Universitaire Desautes Studes Internationales in Geneva, Switzerland, from 1961 to 1962.
On his retirement as Secretary-General of the UN, Kofi Annan founded the Kofi Annan Foundation to continue with his dream for a better world.
Mr Kofi Annan and the UN were the co-recipients of the 2001 Nobel Peace Prize.
He was survived by his wife, Nane, and three children.
The Ghana-India Kofi Annan ICT Centre of Excellence in Accra, which trains young Ghanaians in ICT technology, and the Kofi Annan Peace-keeping and Training Centre, a regional hub that trains peacekeepers and security personnel from the world over, are some of the institutions that are named after the man, who lived his life pursuing the general well-being of the people of the world, especially, the vulnerable and the marginalised.
GNA By Lydia Kukua Asamoah, GNA