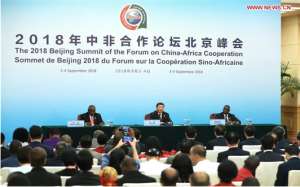 Over the last few weeks, there has been a debate about Africa-China relations and its potential consequences on the future of Africa. This followed the Forum on China-Africa Cooperation(FOCAC), which was hosted by China and attended by leaders of about 50 African countries. In addition to the multi billion dollar infrastructure development projects in Africa; like the Entebbe-Kampala rail project in Uganda, the Chinese President, Xi Jinping has promised an assistants package worth $60 billion. Just like Africa's relation with Europe and America, Africa-China relation has been in existence for decades now, but increased investment by the Chinese over the last few years has put this relationship in the sport light, making it one of the significant developments in 21st century political economy and international relations.
Despite this seemingly charitable gesture by the Chines, there have been strong criticisms of these investments from people within and outside Africa. Some critics within the continent are skeptical about the intentions of China to help Africa develop, they posits that, these investments are just but an inducement to get Africa into the colonial bed of China. In his first diplomatic visit to Africa, former US Secretary of State, Rex Tillerson also warned that Africa may be forfeiting its sovereignty by accepting these loans from China. However, this argument is lame because, it is base on the reasoning that, the relationship between China and Africa is asymmetrical in favour of China. But does the West have the moral right to make this kind of argument? it is worth noting that, even the long standing economic cooperation between Africa and the West has never been symmetrical. Just like loans from China, loans from the West also comes with strings attached, sometimes with clear exploitative tendencies. If this cooperation with the West never amounted to attempts to colonize Africa again, then that of China can also not be described as such.
In addition, others have also raised concerns about Africa's indebtedness to China, warning that a default in paying this sky rocketing debt will have dire consequences for the continent's future. This is a very legitimate concern that must be a source of worry to all. It must be noted that, an accumulation of debt owed by any country is certainly not a good thing, however it is misleading for critics to suggest that, Africa's rising debt is particularly bad because it is owed China. Indeed, when Ghana was declared a Heavily Indebted Poor Country(HIPC) in 2001, it was not as a result of debt owed the Chines, therefore, the rising debt in Africa must be discussed within the larger context and not just a narrowed Chinese angle. These criticisms have lead some experts to conclude that, the West is simply afraid that China will soon take over the this resource-rich African continent to the detriment of the Western interest.
For a continent with huge infrastructure deficit, the investment by China is too tempting to turn down. It is becoming common to see China behind almost all major infrastructure projects in Africa. If the West fears that China may overtake them in the continent, if they still want to be relevant in the story of Africa,then they must take a second look at their role in the development process of the continent.
However, it is important for African leaders to begin a critical examination of some of the projects they are using these loans for. They must avoid the tendencies to invest in projects that are highly unprofitably, just for the purposes of winning elections. There must also be in place, sustainable debt management mechanisms that will ensure that countries do not fall into an irreversible debt coma. All forms of corruption must be eschewed to ensure that these monies do not go into the private pockets of self-seeking individuals. The agenda to build a new Africa with focus on improved infrastructure must continue unabated, even if that new Africa will be a ''China-made Africa''.
Autor: Ibrahim Suhuyini
Blgger at ibrahimsuhuyini.blogpot.com and an international relations commentator