Patient's Organization Call For Step-Up Hepatitis Battle In Ghana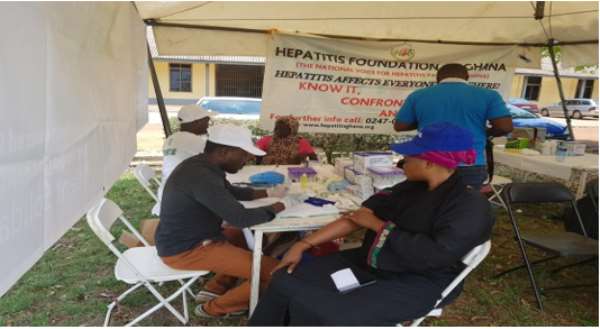 Ghana can beat the cancer-causing disease hepatitis B if it raises its game, but treatment programmes need to go hand in hand with those tackling the likes of HIV and Malaria. Ghana needs to increase chronic viral hepatitis care and treatment nationwide to reduce costly complications, economic hardship and deaths from cirrhosis and liver cancer, according to the Patient's organization. An estimated four million people in Ghana are living with chronic hepatitis, making it the most prevalent life threatening disease in the country.
Ghana belongs to the areas where the prevalence of chronic HBV infection is high (≥8%) and that of hepatitis C virus is also high (5-10%). There is thus a high burden of infection with resulting high prevalence of chronic liver disease and liver cancer (hepatocellular carcinoma). In Ghana, HBV is considered to be of significant public health importance and a disease that requires greater attention.
National Hepatitis B prevalence is estimated at 13%. This is an estimate arrived at using prevalence among blood donors and pregnant women. Approximately, 4 million out of 28 million people have Hepatitis B in Ghana. The country lacks the resources to educate, immunize and screen people for hepatitis, and often there are few medical centers or drugs available to treat those infected. In a cruel twist of fate, many people find out about their hepatitis B when they attempt to donate blood.
There are number of factors that account for the observed high HBV prevalence in Ghana. These includes lack of adequate information, understanding among Ghanaians of the transmission dynamics of the virus, lack of disease awareness, lack of health infrastructure, lack of access to screening and vaccinations, traditional cultural practices and beliefs, peer and social pressures, lack of adequate information and alternative services to them and historical cultural practices and poverty and lack of political will.
Viral hepatitis is a group of infectious diseases known by the letters A, B, C, D or E, which attack the liver. Despite killing close to 1.4 million people every year—with Africa the hardest-hit region— hepatitis B has long failed to grab the spotlight. Ninety percent of deaths are from hepatitis B and C, responsible for two-thirds of the global liver cancer toll. "It's a no-brainer. The best way to prevent Hepatitis B is through the birth dose vaccination, creating awareness for people dying from liver cirrhosis to prevent and treat viral hepatitis. If governments do that, lives would be saved and a lot of healthcare costs. Hepatitis B and C are transmitted from infected mothers to newborn babies, by unsafe injections during medical procedures and drug use, or unsafe sex.
Testing is crucial, given that of the estimated 500 million people with viral hepatitis, many are unaware of their infection. We also need to make sure there is a prevention plan in place that healthcare-associated transmission is reduced, that injecting drug users to the equipment they need to prevent from getting infected. That totally changes the dynamic about how we should approach this. Hepatitis kills almost as many people a year as HIV/AIDS, and therefore needs a similar degree of national traction; People affected by HIV are also particularly vulnerable to hepatitis, with up to 10 million worldwide estimated to be infected with both. Advances in HIV treatment have prolonged the lives of people with that virus, meaning they have more time to develop hepatitis-related liver cancer, but hepatitis treatment still lags behind. "The structure we created for HIV treatment is ideal for hepatitis treatment. It's time that we didn't put these diseases into silos.
On the other hand, although, Ghana's National Health Insurance Scheme (NHIS) introduced in 2003, aims to improve access to health services by eliminating financial barriers (particularly out-of pocket payments), hepatitis B screening and vaccination in Ghana outside EPI are still not covered under the scheme. Screenings are only covered and prescribed at hospitals for patients suspected to be reactive to hepatitis B and/or C. Hepatitis B immunoglobulin G and hepatitis B monovalent vaccine for babies born to hepatitis B reactive mothers are also not covered by the NHIS. These may have all hampered effective control of the disease over the last couple of years.
Addressing Ghana's high HBV prevalence should remain a key national priority and one that needs strategic public health interventions. In 2014, the World Health Assembly adopted the second WHO resolution on viral hepatitis (WHA67.6), providing guidance to governments on how to prioritize actions to tackle all forms of viral hepatitis in a coordinated manner. Subsequently, the recently released WHO guidelines on the management of chronic hepatitis B highlight the importance of adopting a simplified public health approach to controlling the virus. The key highlights of this guideline include developing publicly-funded screening and treatment programmes and providing universal access to hepatitis B prevention, care and treatment. Scaling up this programme in Ghana will have two main benefits. Firstly, it will expand access to the general population. And secondly, it will strengthen the diagnostic services and laboratory infrastructure to support care. In line with this, Hepatitis B vaccination should be covered by the NHIS, preferably for every citizen. If this is not achievable owing to resource limitations, it should be made available at least to all family members/close contacts of persons with hepatitis B in efforts to reduce horizontal transmission of the disease.
We are on government to step up Hepatitis activities now to eliminate these deadly diseases. "We have a very effective vaccine for 30 years to prevent the future burden of Hepatitis B so patient's do not develop chronic Hepatitis and subsequent liver cirrhosis and liver cancer…In addition, there are now very effective drugs to treat chronic Hepatitis B, which is as simple as a pill a day and, like HIV, you can prevent disease progression to cirrhosis and liver cancer. The World Health Organization reports more than one half billion people around the world are living with chronic viral hepatitis.
In marking World Hepatitis Day (July 28), WHO says intensifying testing, prevention and treatment efforts is key to tackling one of the world's most serious diseases.
Theobald Owusu-Ansah (The President of Hepatitis Foundation of Ghana)
Email: [email protected] / [email protected]
Website: www.hepatitisghana.org