Join Free Digital Entrepreneurship Training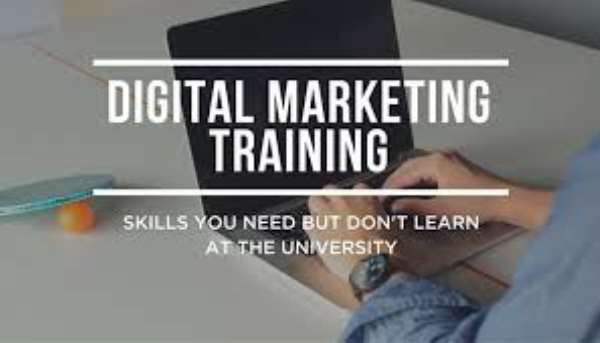 The rise of the internet and mobile has led to significant changes in the business world. Nearly half of the world has access to internet connection today. In 1995, it was less than 1%. The average person now spends more time online than on TV and all other media combined. [Branding Bricks, 2017]
Over 70% of the world youth are online [ITU Facts & Figures, 2017].
On average, they spend over 5,700 minutes per month—that's over 90 hours. Almost 4 days! Four-fifth of that time spent online is on social media sites [Google Digital Garage, 2018]. That means they are spending about 80% of their online time socializing and sharing.
On the same online they find themselves socializing, a lot is happening.
In 2016, an estimated 1.61 billion people worldwide purchase goods online which amounted to GHS 8.6 trillion. Projections show a growth of up to GHS 18 trillion by 2020. –[statista.com]
Currently we have over 7.9 million active internet users in Ghana [adbays.com]. The figures increase daily, as the nation keeps expanding internet accessibility to more areas; clearly this is a huge opportunity for brands, companies and especially the youth who wish to create online presence and Digital leads.
The graph below shows the internet usage in Ghana. It is really rising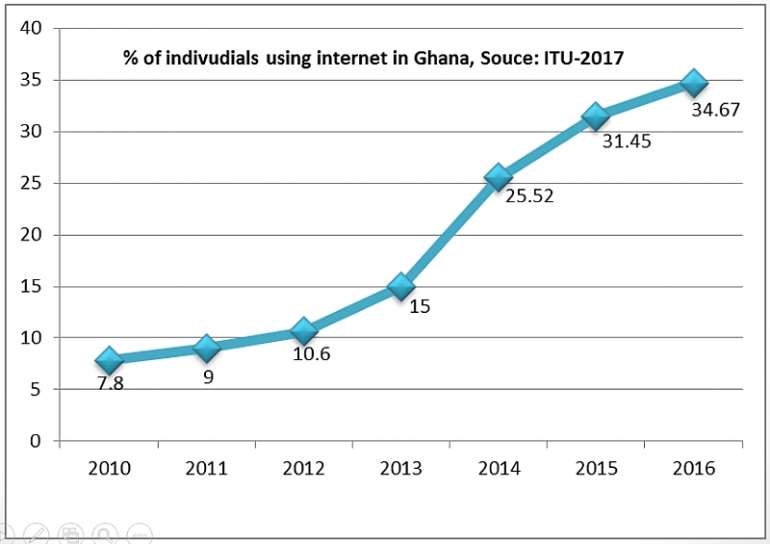 How do we the youth tap into this great opportunity?
The key is Digital Entrepreneurship Skills. This skill is different from the existing ICT training in Ghana as it focuses purely on the business aspect of the internet. You cannot survive online with "This is a mouse" training.
The government has realized this and making sure every youth acquires this Digital Skills.
It's DigiTime for Ghana- Vice President.
The NYA E-Marketing and Digital Media Entrepreneurship Training takes care of 3000 youth. Over 15,000 people applied.
First of all, What is Digital Entrepreneurship?
Digital Entrepreneurship represents a joining of traditional entrepreneurship with an emphasis on new technologies, the opportunities created by these technologies, and new business forms. These days it seems like all entrepreneurs need to have at least one foot (if not both) in the digital world. Regardless of what you're selling
Who are Digital Entrepreneurs?
Digital entrepreneurs are entrepreneurs focused exclusively on digital commerce, and digital commerce is a subset of e-commerce used to delineate companies that create digital products and services that are marketed, delivered, and supported completely online.
I have created a Telegram Group for the unfortunate 12 000+ youth who applied but were not selected, and any other youth who wants to learn Digital Entrepreneurship. Today is LESSON 20. The group currently has 130 members.
Who can join the group?
 Anyone interested in starting Internet Business
 Startup Owners
 Marketing Professionals
 Sales Professionals
 Entrepreneurs, Business Owners and Business Managers
 Tertiary Students & Graduates
 National Service Personnel
 Digital Marketing Professionals
 Social Media Administrators
 Anyone interested in Additional Income Stream
 Anyone looking to enrich their CV with a recognized IT
 Anyone who has time to work from home
Sample topics we are learning
 Internet & Website Overview
 Basic Internet Security
 Online & Cloud Business Tools
 Digital Currency
 Business Digital Identity
 Data & Information Management
 Content Curation & Creation
 E-Tail
 Reputation Management
 Affiliate Marketing
 Network Marketing
 Freelancing
 Virtual Assistance
 Inbound Marketing
 Search Engine Optimization (SE
 Search Engine Marketing (SEM
 Social Media Marketing (SMM)
 Email Marketing
 Video Marketing
 Web Analytics
 Blogging
 Mobile Marketing
 Display Advertisement
 Integrated Digital Marketing Strategy
 Internet Business Setup
This is a must have training for anyone in the marketing field. According to LinkedIn & HubSpot report, the top two skills marketing department always ask in interview since 2013 are SEO|SEM Specialist and Online Marketing Specialist.
How long is the training?
The group will exist forever but every participant should be good enough to start their own Internet Business or Work for any company as Digital Manager after 100 lessons.
Few things to note:
 This training is not a course meant for IT guys only. Everyone is invited. You just have to have the passion to make a living online.
 It's NOT about Scamming. It's not about Carding. We are learning skills you will be happy to do without any cop knocking on your door. A Skill you can confidently put on your CV. The INTERNET has a better side, and that is what we are learning. Why waste time on carding when you can equally do something legal online, and even earn much than a carder.
How do you join the Group?
It's very simple. So you need to install telegram first.
There are 3 main ways to join. In each way, you must have Telegram installed on your phone.
 Play Store - Android
 Apple Store - iOS
 Microsoft Store- Windows Mobile
I will also recommend you get the Telegram Desktop Client so you can use the telegram on your computer.
Method 1:
Chat me direct on 0234 80 90 10 via Telegram. I'll add you to the group. Just send me the message "DET". You will be added automatically
Method 2: visit t.me/internetbusiness
Method 3: visit webextremist.com/internetbusiness
BONUS for anyone who joins
 I will make 5000 active emails available for anyone who joins for email Marketing.
 Will also provide 2TB of relevant Digital Content for free.
Few Myths about Internet Business
1. You can get $2,000 weekly when you start. It's not true.
2. You can do online business with only mobile phone. It's not true. You must have a computer if you want to be a Digital Entrepreneur. It can be desktop or laptop. Laptop is preferred because it makes you mobile. You need the flexibility to work on the fly as a Digital Entrepreneur.
3. You can do Part-Time work online and Earn Full-Time wages. It's not true.
Things you must have in order to succeed as Digital Entrepreneur
1. The Digital Knowledge Base
2. Digital Business Environment
3. Digital Skills
4. Taxation and Financial Environment
5. Digital Entrepreneurial Mindset
6. The common sense in doing business
This online training takes care of points (1) and (3). The government is doing everything possible to implement point (2) and point (4). Point (5) and (6) is left to you the individual.
Why is the Training online?
 To cut down cost
 To make it available to every youth in the country regardless of location
Why is the training on Telegram (TG) and not on WhatsApp (WP)?
1. On TG, you have access to all the group chats regardless of when you joined. If you join today, you can see all the lessons we have done from DAY 1: WP doesn't allow that.
2. After registering TG, you don't need your phone to use it. If you lose your smartphone, you can still use it on computer. On WP, your smartphone must be ON and data must be ON and you must have DATA before you can use on computer.
3. I foresee the group going beyond the 250 limit WP has. Telegram supports up to 100 000 group members.
4. TG has inbuilt features to manage group. You can ban someone from posting in the group. She will be able to read everything in the group but cant post. In my group for instance, you can not send a link to the group within 24hrs of joining. It's a way to control spams. You can also ban someone for 3 days. You can warn someone too. You can easily ban NSFW Content (Not Safe For Work).
5. If there is something to decide, you can create a poll in TG so people will vote. You will have all your percentages right. WP don't have that feature.
6. TG is open source. WP is not. By using it we are helping build the open source community. :)
7. TG is more secure than WP. This is debatable. I know the IT guys will get on me at the comment section. But the simple fact that Pavel Durov( the TG Developer) will prefer to be banned in all countries than handing over Telegram's Encryption KEY to Governments makes me feel very fine using it. The Syrian Government has banned TG because Pavel failed to provide the encryption key. Last Monday, TG got banned in Russia too. Pavel has sworn hell not to give the Encryption key to Putin or any government. The key will allow those governments to see what people are doing on TG.
Will be glad to see your comment at the *Comment Section*
And please do not forget. IT'S ABSOLUTELY FREE!!
Have a nice day
ABOUT THE TRAINER
Using his 5 years' experience as Virtual Assistant and SEO Specialist at WebsiteRetrofit, Santa Barbara, California, you are guaranteed of world class training.
His personal blog: Webextremist.com
You can read his other articles here on Modern Ghana.
You can get in touch with him via 0234 20 90 10 or [email protected]