High Commissioner Sues Chronicle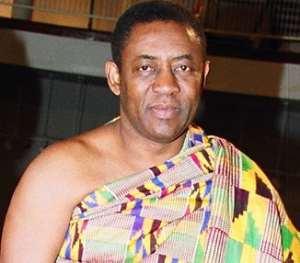 Ghana's High Commissioner to the United Kingdom, H.E. Isaac Osei has sued the publisher of The Ghanaian Chronicle and two of its editors, Kojo Omaboe, the Acting Editor, 2nd defendant and Sebastian R.Freiku, Ashanti Region editor, third defendant.
This stems from the paper's report of June 2005 which had the headline, Missing 256 Pounds Sterling-Chancellor Kohl Accuses Ghana's Envoy of 'Stealing'-Kufuor Petitioned. Subsequent to the headlines was what Isaac Osei who is also the official representative of the Government of Ghana in London said, constituted an imputation of malice and falsehood.
A writ issued by the High Court on July 19 2005 has given up to Wednedsay July 27, 2005 for the publishers of The Ghanaian Chronicle to enter an appearance or have judgement given.
The Minister Counselor of Information at the London High Commission, Mr. Ivor Agyeman-Duah, who until recently served at the Embassy in Washington,DC, has confirmed in press release that Laxcom Associates in Accra, solicitors of the High Commissioner, have on his behalf, denied all the allegations in the newspaper.
Lexcom Associates in their statement of claim said, His Excellency Isaac Osei has never stolen from anybody and has not received any parcel or certificate intended for the said Chancellor Kohl .
Even though these denials were previously made known to the paper, it refused to publish them because, ' the publication' according to the solicitors 'was intended to and actually has succeeded in diminishing the high esteem in which the plaintiff was held not only in Ghana but abroad.'
The solicitors are therefore claiming retraction of the story and apology with prominence on the front page of The Ghanaian Chronicle; punitive and general damages for defamation and an injunction restraining the defendants and each of them from further such publication;cost of injury and other debt and equitable reliefs are also demanded.