Odorkor MTTD Police Commander Rewarded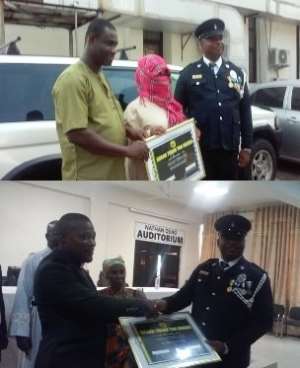 Assistant Superintendent of Police (A.S.P.) Michael Asiedu, the Odorkor M.T.T.D. Police Commander, has been honoured for his outstanding role in the society.
Mr Tawia D. Hemans, the Chief Executive Officer of 'Ghana Thank You', a Non-Governmental Organization, who made the honour, said ASP Asiedu has diligently discharged his affairs and this is known by all who encountered him.
Presenting a plaque to ASP Asiedu on Wednesday at the Nathan Quao Auditorium at the Ghana Civil Service Hall in Accra, he said the honour is to appreciate the hard-work he is undertaking within his jurisdiction.
Mr Heman said his organisation carried out a secret surveillance on the Police Commander for over a year and witnessed the difference the Commander and his outfit have been making hence the effort to commend him and others in the society.
The 'Ghana Thank You Award' is geared at supporting and encouraging hardworking and exceptional role players in the society.
It also honours various organizations and societal entities which are making positive impact in the society.
Two other recipients of the award included, an undercover journalist known as 'BB' and Mr Mumuni Sulemana, who is the Regional Director for National Youth Authority in the Upper West Region.
GNA