Kufuor arrives home from AU/G-8 Summit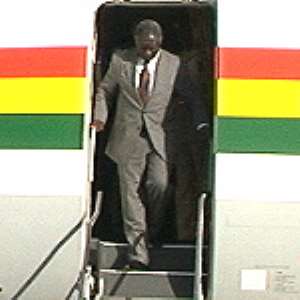 Accra, July 16, GNA- President John Agyekum Kufuor arrived home on Saturday after attending the Africa Union (AU) Heads of States Summit in Sirts, Libya as well as the G-8 Summit in Gleneagles in Scotland. The President and his entourage also paid a three-day visit to Jamaica at the invitation of that country's Prime Minister, Mr P. B. Patterson.
Ghana's Foreign Affairs Minister, Nana Akufo-Addo, also accompanied the President on his trips.
Nana Akufo-Addo told journalists at the Kotoka International Airport, that the meetings were fruitful, especially where Ghana was to enjoy 80 per cent cancellation of her debt owed to industrialised nations.
He said the African leaders at the end of the AU summit, took a decision on Africa's debt cancellation, which they agreed must be done across board without any conditionality, as well as insisted on a fair trade for African nations.
The Minister said African leaders applauded the progress of security issues being achieved on the continent.
He cited the government of national unity being formed in Sudan after over 40 years of civil strife as well as the political progress in Cote d' Voire and Togo.
According to Nana Akufo-Addo, the presence of the seven African heads of states at the G-8 summit led to the pledge by industrialised nations to double their developmental assistance to African nations. This, he said, was in addition to the cancellation of the debt of 14 African countries including Ghana who has exhibited good governance and respect for human rights.
Nana Akufo-Addo noted that President Kufuor's visit to Jamaica culminated in the decision by ALCOA World Aluminum to establish a bauxite plant in Ghana.
He said the plant would be located at Kyebi, in the Eastern Region and Nyinahim in the Ashanti Region where bauxite deposits were found. Nana Akufo-Addo said President Kufuor and his entourage also had the opportunity to tour the Jamaican Aluminum Company to see at first hand its facilities as well as mode of production.
He also said the President and his Jamaican counterpart held bilateral discussions and agreed to collaborate in areas such as tourism, education and culture.
Nana Akufo-Addo said the two countries had a long-standing relationship, which needed to be stepped up, and that the Ghana Jamaican Joint Permanent Commission was to be reactivated.
The Vice President, Aliu Mahama, Mrs Theresa Kufuor, the First lady, Ministers, the Chief of Defence Staff, Major General Joseph B. Danquah, the Inspector General of Police, Mr Patrick Acheampong and the Dean of the Diplomatic Corps, Mr Ibrahim Omar were at the Airport to welcome President Kufuor and his entourage. 16 July 05