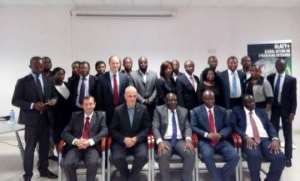 A three-day advance training on Cybercrime and Electronic Evidence for judges has opened in Accra.
Seven High Court and Circuit Court judges would be taking through electronic evidence challenges, conducting hearings and drafting orders, technology and recent trends in cybercrime and the Budapest Conventions.
Cybercrime has been around for more than 40 years. The Council of Europe had been dealing with this topic from a criminal law perspective from the mid-1980s onwards.
The Budapest Convention is a criminal justice treaty that provides States with the criminalisation of a list of attacks against and by means of computers; procedural law tools to make the investigation of cybercrime and the securing of electronic evidence in relation to any crime more effective and subject to rule of law safeguards; and international police and judicial cooperation on cybercrime and e-evidence.
Speaking at the opening ceremony, Mr Vincent Sowah Odoitei, Deputy Minister of Communication, said government was committed to advancing International cooperation in the fight against Cybercrime.
Mr Odoitei said as a result of that, the Ministry of Communication has therefore submitted a memo on the Budapest Convention and that would soon be put before Parliament for approval.
The deputy Minister recalled that the country was experiencing cyber security phenomenon and the most common and pervasive crime apart from Cyber fraud was the role of computers and the Internet.
He said other emerging crimes such as money laundering, human and drug trafficking, and terrorism could not be overlooked.
Mr Odoitei said it was therefore prudent that the justice delivery system ought to be enhanced in order to get the needed knowledge and understanding of cybercrime and security when dealing with Ghana's Electronic Transaction Act, Act 772.
According to him government has therefore scale up continuing judicial training so that judges would also get the requisite knowledge on cybercrime and adjudicate over cases.
The deputy Minister said the Ministry of Communication was also going to intensify home grown policies in the area of capacity building and put together technical working committees to address challenges of cybercrime.
Mr Odoitei said government was going to obtain numerous equipment to fight the challenges of cybercrime issues in the country.
Mr Joe Ankoye, Director General, National Communication Authority (NCA) said the authority would in December this year establish a Forensic laboratory to address challenges of cybercrime and security issues.
Mr Anokye said the NCA has therefore increased its intake of 35 service personnel to 175 to train them in Ghana's digitization process.
He explained that the National Security and Inter Ministerial Advisory Committee on cybercrime and security has also been put in place to ensure that Ghana's digitization process was on course
Mr Anokye said the NCA was going to work within its mandate to ensure citizens are protected from cybercrime and security issues.
Sir Justice Dennis Adjei, a Court of Appeal Judge and Chairman of the Judicial Continuing Education, said the judiciary had seen the issues concerning cybercrime and security as an emerging area that judges needed to be trained.
According to Justice Adjei the training programme was going to offer them insight knowledge on emerging trends in cybercrimes.
GNA
By Joyce Danso, GNA