A few years ago, we had a very important and urgent need to be in Kumasi very early the next day. It was already midnight (Nigerian Time, but 11pm in Ghana), and we were still in Accra, surrounded by its brilliant lights and soothing serenity (there was not the faintest hint of any generator sound anywhere), wondering what to do.
But a Ghanaian who was with us did not seem to share our worries. He simply told us to hit the road, that in the next three hours, we should be in Kumasi.
I looked at him with surprise and disbelief. Who was sure nobody had hired him to lure the three of us into a well-laid ambush by violent robbers? When I expressed my concern about armed robbers, his answer was sharp: "There are no armed robbers!"
When later I repeated the concern, he said something he quickly realised he should not have said, but which Nigerians need to continue hearing no matter how painful we find it: "I have told you… no armed robbers! This is not Nige…!" He cut himself short. It suddenly occurred to him that he had gone too far in his bid to emphasize that point.
When I called a Nigerian friend in Ghana and he reassured me that the long journey from Accra to Kumasi was safe, we hit the road. At the one or two places where very friendly policemen stopped us, they merely looked at the vehicle and waved us on with their torches, without the slightest hint that they wanted a bribe.
And so, after a long journey through a quiet expressway and vast, quiet countryside, we embraced the warmth of the clean, well-lit streets of Kumasi early that cold morning, and found our way to the serene ambience of the Kwame Nkrumah University of Science and Technology (KNUST).
No doubt, Ghana is a very poor country. Beyond the glitter of an efficient system is poverty that is real and palpable. But Ghana has been lucky with its leaders. What nation would not prosper under the watch of transparent, patriotic and result-oriented leaders who are not afraid to live among the people (unlike Nigerian leaders who hide themselves in an impregnable fortress like Aso Rock)?
It is only thieving, failed leaders that live in perpetual fear of the citizenry. The Ghanaian president lives in a street with very little security and has neighbours just like any other Ghanaian.
Throughout my stay in Ghana, I never dialled any number twice with my Ghana MTN line, no matter the country I called! But in Nigeria, if you dial a familiar number (duly saved in your phone), what you would probably hear is: "This number does not exist on this network." Or: "The number you have dialled is incorrect." And so on! You may eventually get through if you exercise more patience. What a country!
Service providers in Ghana are effectively monitored and regulated. The regulatory body ensures that no service provider sells lines more than it has the capacity to manage. And so the people make calls and get through with ease.
The same thing happens virtually every other place in Africa where the same service providers we have in Nigeria also operate. But in Nigeria they act with impunity while they function effectively every other place else.
It offends me each time anyone attempts comparing Nigeria with Europe or America. From Swaziland, Botswana, Mozambique, down to Togo and Benin Republic here, Nigeria is, perhaps, the only country in Africa that is yet to achieve some appreciable stability in its electricity supply. We are here still grappling with pitch darkness and watching our pitiably blank and groping leaders telling embarrassing, infantile stories to explain away their inexplicable failure and insufferable incompetence, while very poor countries we can easily buy up with our humungous resources have since left us behind on this issue of power supply and provision of other social amenities.
In most of these countries, one can conveniently walk to any public tap and drink water, but whoever tries that here any time some liquid manages to trickle from any public tap would be guilty of attempting suicide.
At Kwame Nkrumah University, Americans, Britishers, Chinese and people from diverse nations of the world are proudly enrolled as students. In 1993, an American Professor of Economics proudly told me that while he studied for his Masters Degree at the University College, Ibadan, (UCI) in 1958, he stayed at Kuti Hall. I wonder if he can advise any American child today to get near that same Kuti Hall he spoke so glowingly about, or encourage the child of his worst enemy to attend a Nigerian University.
While a friend and I took a walk around midnight on a Saturday, we felt so safe, despite the several trees in the well landscaped and beautified compounded that lend the school its serenity, but which could provide cover for any campus cultists to strike, like we regularly witness in Nigeria.
As we stood on a walkway, about eight American youths dashed across, chattering, laughing and feeling so much at home. I am told that children of countless Nigerian government officials are also enrolled in the school, generating huge funds to Ghana with which it now offers divers scholarships to its own citizens. Yes, Nigerian public officers would prefer paying all the money (usually stolen from the public purse) to Ghana than improving and making our own schools safer so that youths from several parts of the world can also come here (as used to be the case) to study.
Ghanaians do not have the drive and innovativeness of Nigerians. Under focused and honest leaders whose eyes and hearts are not solely glued on the treasury, what would stop Nigeria from becoming one of the greatest countries in the world?
So, while our leanly endowed neighbours are gradually laying solid foundations for greater tomorrow, Nigeria is decaying and sinking into unimaginable depths.
Laden with an equally insufferably inept and morally impaired legislators, what options are left for a country so immensely rich, but so irresponsibly managed?
Painful truths, but let's tell them to ourselves to see if they can awaken a strong resolve in us to put our house in order.
*Ugochukwu Ejinkeonye is a Nigerian journalist and writer. He could be reached with: [email protected]. Many of his articles are archived in his blog: www.ugowrite.blogspot.com; twitter: @ugowrite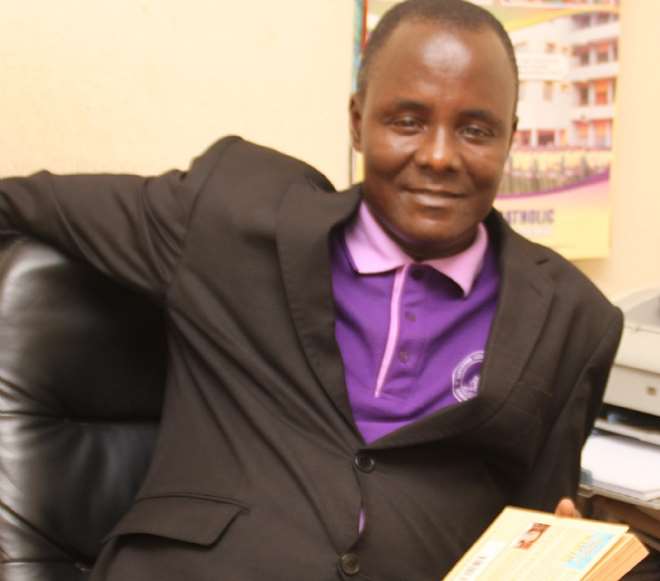 Ugochukwu Ejinkeonye at work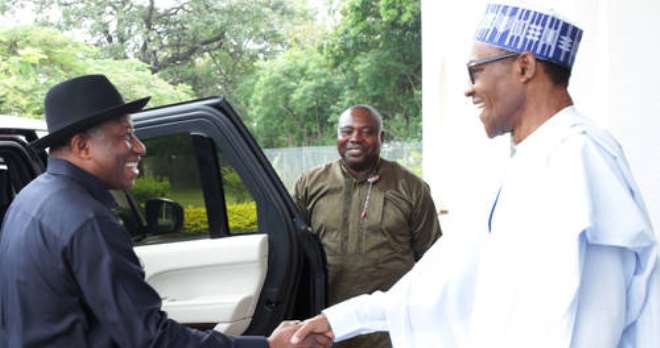 Former President Goodluck Jonathan visits President Muhammadu Buhari, Monday, November, 2, 2015