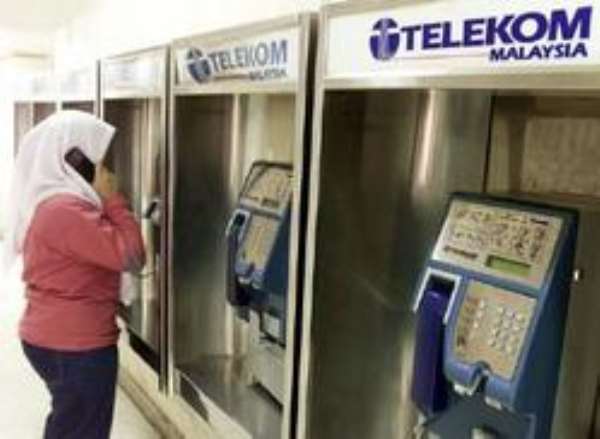 The Government of the Republic of Ghana and Telekom Malaysia Berhad today announced that they have reached an amicable settlement of their international arbitration proceedings. In a statement, both parties said they hope this will bring to an end their long running disputes. The settlement remains conditional for a short time pending certain procedural formalities. Both parties acknowledged that there are conditions that must be met before the settlement is to take full effect. The parties stated that the net amount to be paid by the Government of Ghana to Telekom Malaysia would be paid in instalments over approximately two years. In September 2002, Telekom Malaysia commenced international arbitration proceedings against the Government of Ghana in relation to Telekom Malaysia's investment in Ghana Telecom, the national telecommunications provider in Ghana. The Government counterclaimed and hearings took place at the Peace Palace in The Hague last year.
The Government of Ghana was represented by Hon Ayikoi Otoo, Attorney-General and Minister of Justice, Hon. Albert Kan Dapaah, Minister of Communications and Mr. Yoofi Grant, Director, Ghana Telecom Board. Other members of the delegation were Mrs P. Naana Dontoh, Chief State Attorney at the Attorney-General's Department, Mr. Paul Asimenu, Director of Legal Section, Ministry of Finance and Economic Planning and Mrs Fitnat Adjetey, Legal Adviser, Ghana Telecom.
Nor Aishah Muyop, General Manager of the Legal and Intellectual Property Division and Mr. Gazali Harun, Vice President of the Finance Division represented Telekom Malaysia Berhad.
Speaking after the signing ceremony, Hon Ayikoi Otoo said he was delighted at the successful conclusion of the settlement process. He expressed the belief that the settlement would pave the way for a better and more fruitful relations between Ghana and Malaysia.
In a message, His Excellency Mr. John Kufuor, President of Ghana stated that "the settlement paves the way to improved bilateral relations between Ghana and Malaysia. The settlement is welcome news for both countries. The Government of Ghana approached the negotiations with Telekom Malaysia with a strong spirit of goodwill, and l am delighted that there has been a very positive outcome"
On his part, Dato' Abdul Wahid Omar, Chief Executive of Telekom Malaysia Group said he was extremely pleased with the outcome of the negotiations with the Government.
"We are hopeful that the conditions precedent to the settlement can soon be met by both parties and that the settlement will be made final. We are eager to put this behind us and forge ahead with the plans that we have outlined for Telekom Malaysia's future," he added.