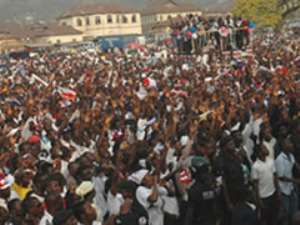 I have a date with destiny on the 7th of December 2016.
You also have a date with destiny on that same day.
Ghana goes to the poll on that day and the one we choose as our leader, determines our economic situation for the next four years. So choose wisely when you get to your various polling centers.
You have a choice to make on that day.
A choice between competence and incompetence.
A choice between prosperity and poverty.
A choice between the restoration of teacher and nursing trainee allowance and its cancellation.
A choice between free shs and gh₵1200 admission fee to shs.
A choice between a quality and improved Nhis and a collapsing Nhis.
A choice between an incorruptible leader and a corrupt leader.
A choice between an honest and sincere leader and a dishonest and insincere leader.
A choice between Nana Akuffo Addo and John Mahama.
Nana Addo and and the Npp represents the former while John Mahama and his Ndc represents the latter.
Nana and the npp has put before you several policies including Zongo development fund, one district one factory, restoration "alla" etc. I see hope in the policies the Npp has put before us all. For this reason, I'm voting for Nana Addo and Dr.Oko Boye in Ledzokuku.
I want it to be known that once upon a time a young man called Domfeh Kwabena Gyeabour stood up to be counted when Ghana needed him most.
#ToAbaPa
#ChooseChange
#VoteNpp
#VoteNana
Domfeh Kwabena Gyeabour.