The Chartered Institute of Marketing Ghana (CIMG) has named the Citi Breakfast Show as the Programme of the Year for 2015.
This is the second time in three years that the show has won the prestigious award having been honoured for the year 2013.
The award was  conferred at the 27th CIMG Performance Awards held at the Banquet Hall of the State House on Saturday on the theme: "Democracy and national cohesion: Marketing a new political paradigm."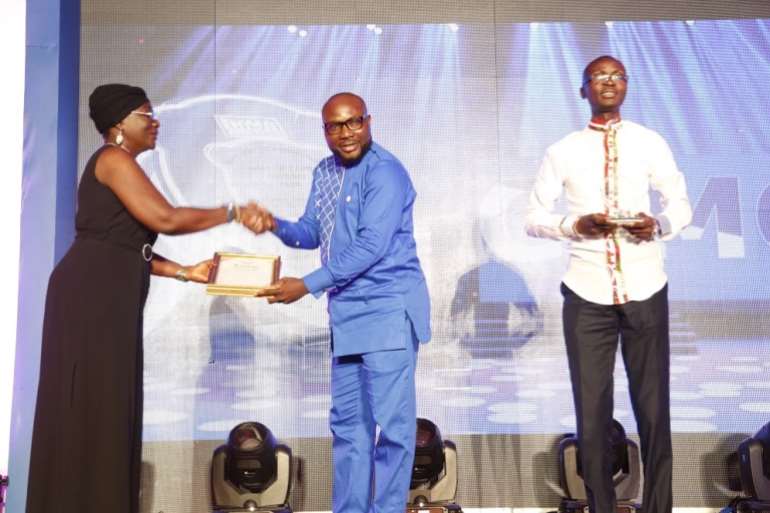 The plaque which was received by host of the show, Bernard Avle and panelist, Richard Dela Sky read:
"Your aim was to provide a platform for objective and reasoned analysis which will keep listeners on top of running national issues. You have scored highly in this regard as you have consistently warmed yourself up to your listeners who would forego all programmes just to tune in to your show."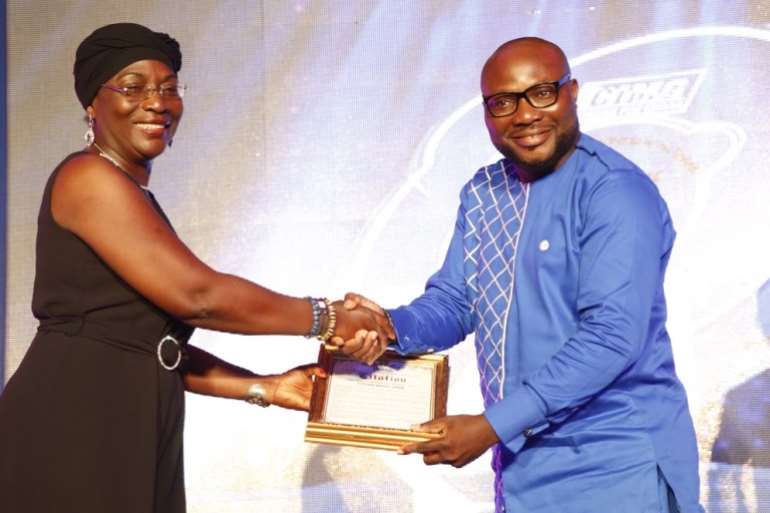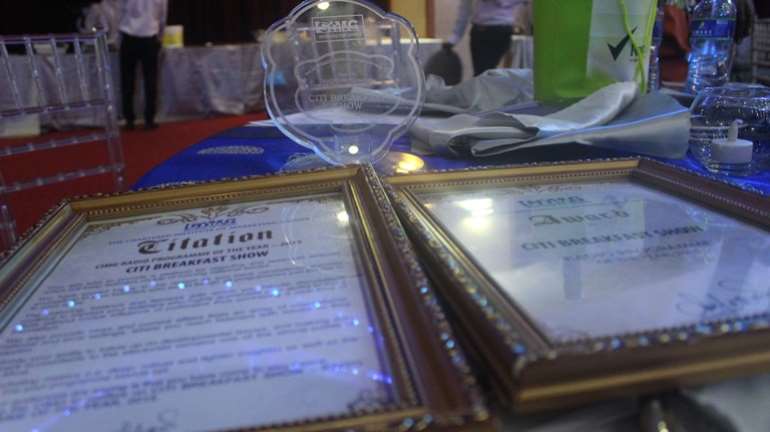 It continued: "The maturing, balance and fairness with which you handle discussions continue to impress your listeners who highly appreciate your ability to run a show without undue influence of politicians thus portraying a new kind of journalism."
About the Cit Breakfast Show Hosted by Bernard Koku Avle every weekday from 6:30 am to 10 am on the nation's top English station , Citi 97.3 FM , the Citi Breakfast Show has developed into one of the most listened to shows on radio in the country.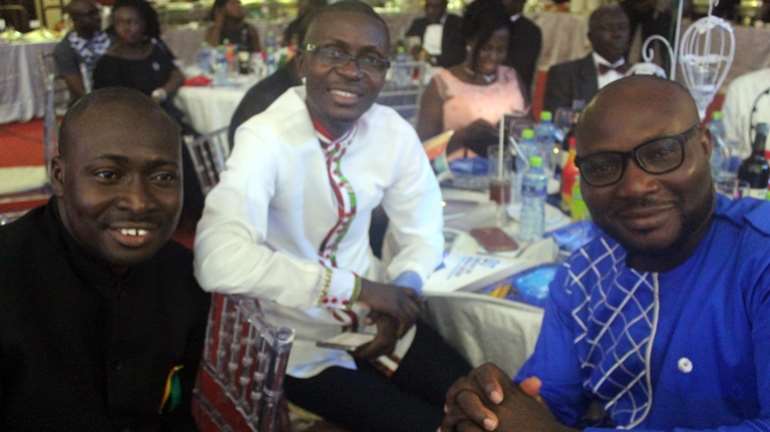 The show comprises some of the finest minds on radio in Ghana including, Richard Dela Sky, Kojo Akoto Boateng, Nana Ama Agyemang Asante and Kwaku David.
The five bring on board expertise on a wide range of areas including politics, education, music and health among other things and their analysis on all the issues they tackle have earned the show lots of plaudits.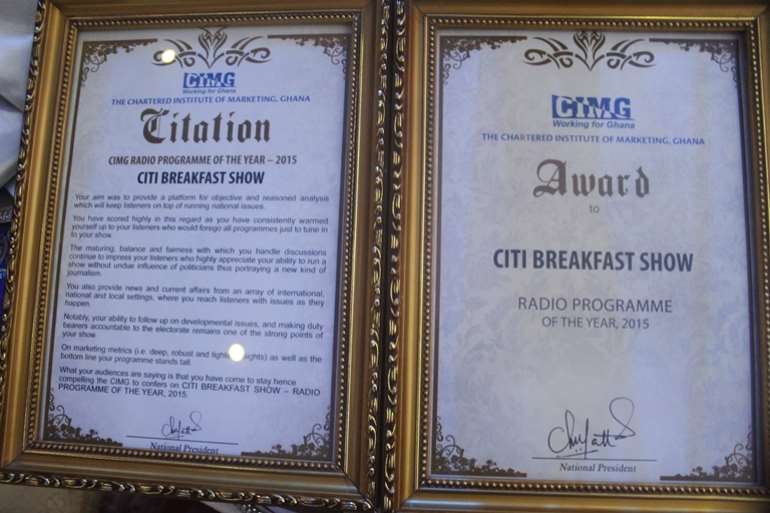 The show has an impressive online following as well with Ghanaians all over the country joining in the discussions via the hashtag #CitiCBS.
The CIMG award further puts Citi FM a notch higher in the media terrain in Ghana.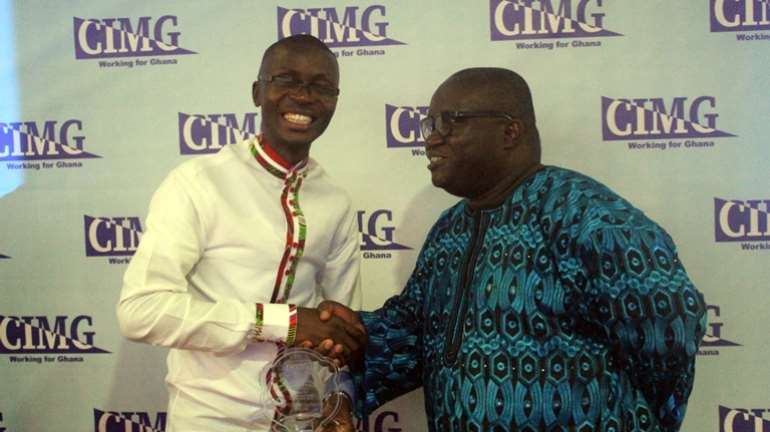 Below is the full list of other award winners at the event:
PERSONALITIES: Marketing man of the year – Patrick Kwame Akorli – MD, Goil
Marketing woman of the year – Madie Elizabeth Arkutu – MD, Unilever
Marketing practitioner of the year- Shirley Acquaah-Harrison – Dir. Marketing & Sales
Marketing practitioner of the year – Jesse Amoah Gyepong – Head, marketing
Marketing student of the year- Yeborwo Victor Edzoryie – head, procurement GSMA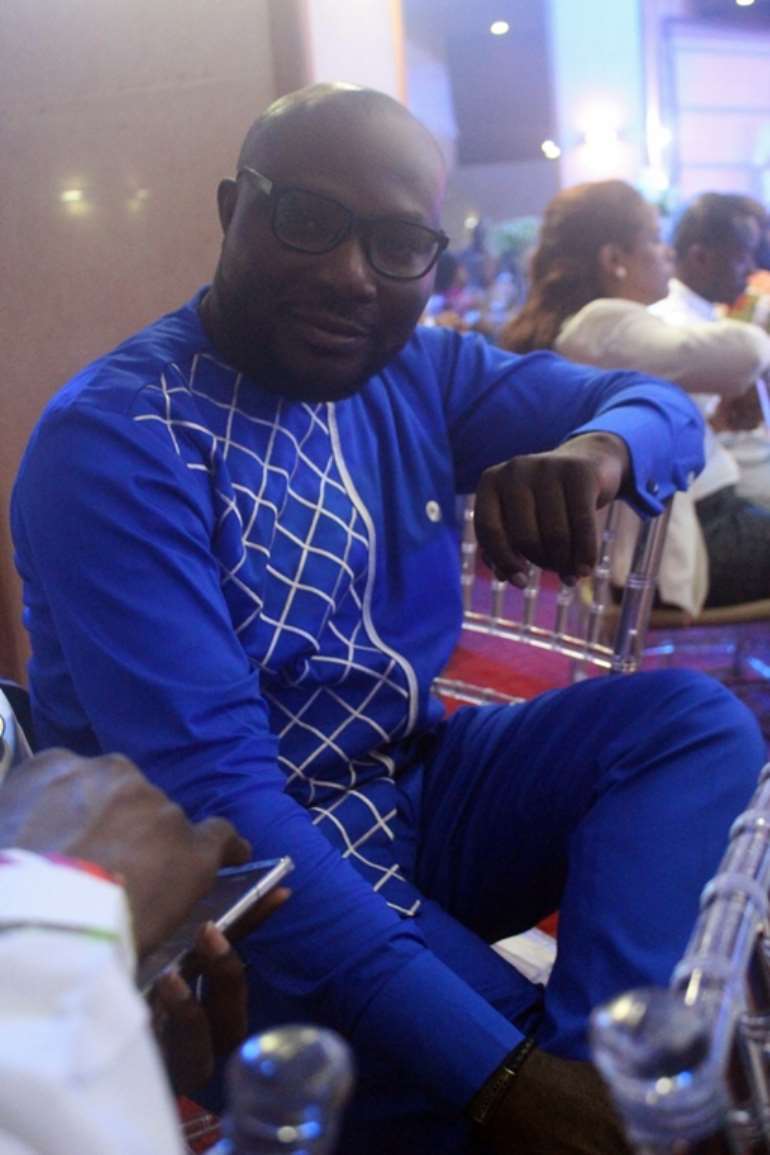 HALL OF FAME: Motor Firm – 2014 – Toyota Ghana company Ltd.
Retail outlet of the year – Melcom Group of companies
Insurance company (Gen) of the year – Vanguard Assurance Company
MEDIA: Outdoor advert of the year – network with the best voice clarity – Vodafone
Print media advert of the year – too much – Airtel
TV advert of the year – 2 Ghana offer – Vodafone
Radio avert of the year – creating smiles – Star Assurance
TV programme of the year – Agenda – TV3
Radio programme of the year – Drive Time – Joy FM
Radio programme of the year – Citi Breakfast Show – Citi FM
Brand activation programme of the year – Grow FM – Unilever
Not-for-profit organisation of the year – Action Aid Ghana
BUSINESS: Insurance Company of the year (Life) – SiC Life
Insurance company of the year (General) –  Enterprise Insurance
Hospitality facility of the year (hotel) – Best Western Premier hotel – Accra
Hospitality facility of the year (hotel) – Coconut grove hotel – Elmina
Hospitality facility of the year – (Allied and support services) – Yoks Investment Ltd
Petroleum company of the year – Goil Media Organisation of the year – Graphic Communications Group Ltd
Motor firm of the year – Japan motors trading co. Ltd
Bank of the year – Ecobank Ghana Ltd Rural bank of the year – Atwima Kwanwa rural bank
Non-bank financial company of the year – Union Savings and Loans Ltd
Telcom Company of the year – Millicom Ghana (Tigo)
ISP company of the year – Internet solutions Marketing oriented company of the year – Stanbic bank
Airline of the year (International) – Ethiopian Airlines
Airline of the year (domestic) – Africa world airlines
Manufacturing company of the year – Kasepreko
Agro based company of the year – OLAM Retail outlet of the year – Electromart (Somovison)
E-commerce company of the year – EIB (starrfmonline.com)
Emerging digital organisation of the year – Zoobashop
PRODUCT: Product of the year – Alomo Silver (Kasapreko)
Emerging brand of the year – Ideal Finance SPECIAL AWARD: Fred Deegbe – Heal the world Tonyi Seneya – Horseman shoes Bernice Dapaah – Bamboo Bikes initiative – By: Godwin A. Allotey & Edwin Kwakofi/citifmonline.com/Ghana
Follow @AlloteyGodwin