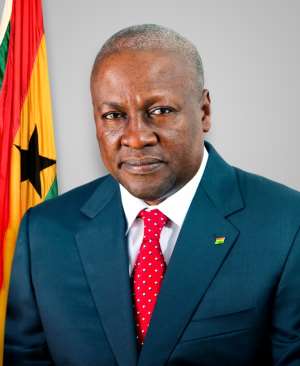 His Excellency President John Dramani Mahama has said his government has done creditably well in the fight against corruption in the country than previous governments.
Speaking on GBC's Sunrise FM (106.7 MHz) in the Eastern Region on Thursday, 14th April, 2016 as part of his "Accounting to the people tour", he advised critics of his administration to distinguish "facts from political propaganda" when critiquing his administration's effort in the fight against corruption.
"In dealing with corruption, let's separate facts from political propaganda. In Ghana, we have a strong contest for political power, and so it is the interest of the contestants to try to use corruption as a political instrument for gaining political power. Indeed, if you want to talk about corruption, I would say this government had done more in the fight against corruption than the previous governments." he admitted.
According to the president, previous governments have failed to tackle corruption head on for fear of exposing their administration to public ridicule.
"There is a time in this country where a President says 'he will not investigate corruption and bring down my administration.' This is a quote that all Ghanaians have heard." He added.
According to him, since 1992, apart from President Rawlings who put some of his appointees before the Human Rights and Administrative Justices Committee, all other corruption cases had always been handled after they had exited government.
The fight against corruption had been taken to a new level by his government, and that his government was the first to handle corruption as and when it found it.
He mentioned the setting up of the Sole Commissioner and other committees to investigate judgement debts, corruption among others as a sign of his government commitment to combatting the canker. He had also given the Attorney General stringent instructions to prosecute persons who have been indicted by various committees.
"It is not only the executive that has to deal with corruption; you have to put the people before court… I don't run the courts." He stressed
According to President Mahama, he wished many of the people found to have been corrupt by various committees were in prison; however, he did not have the constitutional right to determine that. He explained that most of the people walking on our street would have been locked up in prison if he was running an unconstitutional or military regime.
He has therefore cautioned critics who have always pointed left fingers at his government to drop the hypocrisy and help his administration fight corruption to the latter.
"We cannot be adherents of constitutionalism at the same time be admirers of arbitrary justice." He stated.
According to President Mahama, the standard measure for corruption was the Transparency International Index. The fact that Ghana and Senegal were singled out as countries in West Africa working assiduously around the clock to nip corruption in the bud was a positive development for the nation.
In its latest Corruption Perception Index (CPI), Transparency International singled out Ghana and Senegal, two African countries, for praise regarding the good work that their governments and social partners are doing in the fight against the menace.
He assured listeners of his government's firm commitment to dealing with the canker and called on all to support him eradicate the practice.