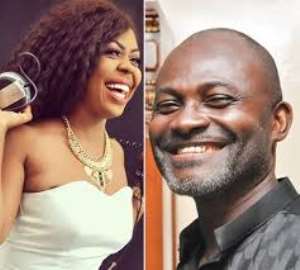 Afia Swazenneger And Hon Kennedy Ohene Agyepong
Stop the Petty squabble!! This is my advice as an elder to Hon Kennedy Ohene Agyepong MP for Assin North and Afia Swazenneger radio presenter of "Despite group'. The unpleasant exchanges began when Afia attacked verbally Hon Agyepong on radio asking to know what he does for a living, for attacking siblings of President Mahama for doing drugs. Hon Kennedy returned fire by calling Afia names alleging she is wayward and bed wets.
The exchanges did not end there as Afia and Hon Agyepong have promised to continue the cacophony which are read regularly on line and on radio and papers but believe you me; the good people of Ghana cannot take it any longer expecting the two responsible adults to do what is right and honorable to stop poisoning the atmosphere with foul words. All I can say to the two individuals is that please! Please!! Please!!! End the feud which portrays you people as fighting in an open market place which is not fair to your good friends, supporters , employees and family members.
I am sure that Ghana's parliament and the "Despite Group" would not be happy with the unfortunate situation; therefore they must call the two to order by using all legitimate means. Family members and friends of the two must also call them to order to avoid embarrassing them which also goes a long way to affect their reputation and that of the nation. Yes the conflicts might be acceptable to radio presenters and listeners who continue to feed on it, but would not end our economic and social problems as a nation or put food on our tables.
Afia please, pursue your dream of becoming a celebrated broadcaster. Hon Agyepong, please, abandon this unproductive course to go about your duties as Member of Parliament and philanthropist without harboring hatred for the insults on you and family. I know you don't believe all that was said about you are true. The open confrontation between the two of you is of no use to majority members of the general public but an embarrassment to your employers and the house of parliament.
There may be people urging each of you to go on and on but the conflict will not be useful to you as the quarrel would not promote peace harmony and productivity. Although the media might be exited on it as people urge you to go on and on , a ceasefire is necessary now ; Please stop it Hon Agyepong and Afia for you are both role models to your family members and coming generations. If the two of you continue you would not be understood by serious minds. Yes if you don't stop the fight most peace loving people would not take you serious and might turn against you. As the saying goes, "don't argue with a fool because no one would know the difference between you".
Alhaji Alhasan Abdulai
EXECUTIVE DIRECTOR
EANFOWORLD FOR SUSTAINABLE DEVELOPMENT
0244 370345/ 0264370345/0208844791 [email protected]/[email protected]