November 12, 2015
|
Politics
National Council Affirms Decision To Suspend Afoko
Myjoyonline.com|Nathan Gadugah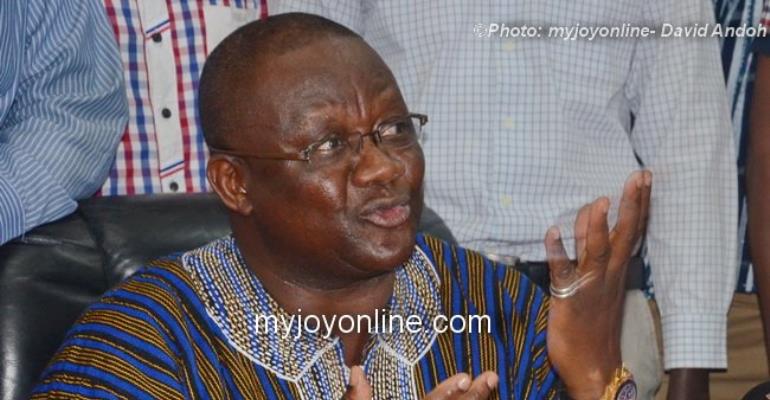 The National Council the second highest decision making body of the opposition New Patriotic Party has upheld the decision by the National Executive Council to suspend embattled chairman Paul Afoko.
A total of 70 votes, six abstentions and one dissenting vote nailed the suspension coffin of the embattled chair seeking to return to office after he was suspended two weeks ago.
The affirmation came Thursday in a tension filled meeting held at the party's Head Quarters which saw key party gurus, including ex-president John Kufuor all attending.
Paul Afoko challenged the decision by NEC to suspend him for misconduct and at a point described the decision as illegal. In an intransigent fashion Afoko granted several interviews insisting he was still the chair of the party . He took the case to court but was thrown out.
The embattled chair returned to the party structures with a letter of appeal, hoping the party will rescind its decision to suspend him but that was not to be.
In an overwhelming majority vote, members of the National Council gave a seal of confirmation to the NEC decision and handed Afoko a least line of survival as the party's chair. His suspension is indefinite.
Joy News' Kwakye Afreh-Nuamah who was present at the party Head Quarters reported the place was heated.
Agyepong scolded
The General Secretary Kwabena Agyepong, a key ally to the suspended chair was also fiercely scolded by some members of the National Council especially by the Ashanti Region chair of the party, Antwi Boasiako popularly called Chairman Wuntumi and Assin North MP Kennedy Agyepong.
Agyepong had also described Afoko's suspension as illegal and walked out of a steering committee meeting at some point claiming he had received a writ challenging the suspension and did not want to be held for contempt of court.
His position as General Secretary also hangs in a balance after a petition was filed by some party members who were not happy with his conduct.
Even before a decision will be taken on that petition, Chairman Wuntumi and Kennedy Agyepong criticised him for the position he took during the suspension of Afoko.
They did not understand how the party's General Secretary will betray the NEC of the party the manner in which he did.
Afoko is yet to comment on the matter.
The party has made all the headlines for all the wrong reasons shortly after it returned from its Tamale Congress which elected new national executives in 2013.
The national executives were sharply divided with the Chairman Paul Afoko, General Secretary Kwabena Agyepong and second National Vice ChairmanSammy Crabbe on one side with the rest on another.
There have been accusations and counter accusations at the top echelons of the party with the lower end experiencing complete chaos and conflict which have led to two deaths.
The party sources say with the suspension of Afoko and most likely, his allies there will be peace to execute a successful campaign in 2016.