Online-dating fraudster, Fadola escapes 5-year jail term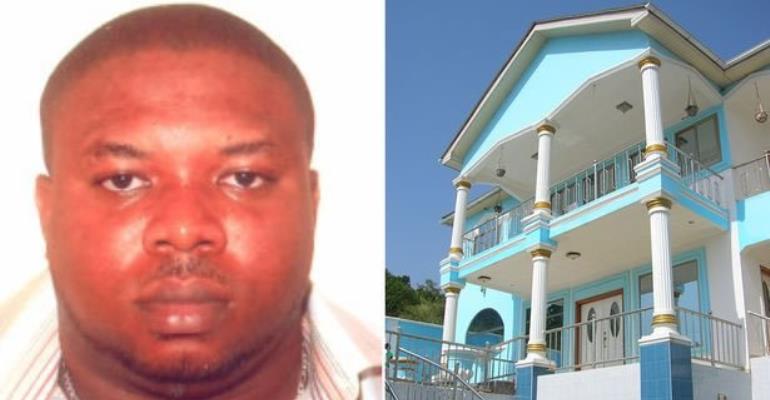 An online dating fraudster serving 5 years jail term has suddenly disappeared from the Nsawam Prison after serving just seven months of his sentence.
Tongues are wagging among prison officers about the circumstances under which Maurice Asola Fadola disappeared from the prison. They want their boss, Matilda Baffour Awuah, to answer.
Crowned as one of the world's most prolific online dating fraudsters, Fadola managed to dupe some British widowed pensioners of about 800,000 leaving them bankrupt. He did this by posing as an Army General, claiming that he needed money for emergency medical services and some other things.
Little did they know that it was all for a luxury gold-plated mansion. However, he was caught in his bid to obtain a British visa.
He was jailed five years in hard labour by the Financial Division of a High Court in Accra. Fadola was convicted on 28 counts of defrauding by false pretences.
But seven months into his sentence, the Nsawam Medium Prisons cannot account for him.
Below is how the New Crusading Guide reported his sentence last year
A businessman resident at Pokuase in the Greater Accra Region, Maurice Asola Fadola; has been jailed five years in hard labour by the Financial Division of a High Court in Accra.
He was convicted on 28 counts of defrauding by false pretences. One count of money laundering, one count of possession of forged document (a passport bearing his picture but with a different name) and one count of possession of firearm without lawful authority.
Prosecuting the case, Principal State Attorney, Mrs. Marina Appiah Opare; told the court that all victims are Brits resident in the United Kingdom (UK). Maurice had made several false representations leading to each of the seven victims remitting varied sums of British pounds to him.
The victims namely Christine Bernadette Barlow, Dena White, Elizabeth Graham, Maureen Main, Apasra Saunders, Jacqueline Owen, and Katherine Norah Clarke had been victims of Fasola's online romance scam leading to each of them losing different sums of money remitted to the accused.
The case started in October 2009 when the British Government through its High Commission contacted the Attorney General's Department to help investigate some fraudulent transactions that resulted in the remittance of thousands of pounds into the account of two registered companies; Fadola Mining Company and Valiaso Company Limited.
Ghana's Economic and Organized Crime Office (EOCO) teamed up with their UK counterparts, the Serious and Organized Crime Agency to investigate the case which in the end showed that the accused was the owner of both companies.
Fasola's activities spanned between 2007 and 2009 when he met with several british ladies via internet dating websites. In each case, he falsely presented himself as a United States soldier on duty in Iraq and in other instances as an engineer with Cosmos Energy Group.
After a period of interaction with all victims, he proposed to retire to the UK and to marry the victims. From online chatting platforms, Fasola began exchanging emails and text messages with his victims.
In order to extract monies from these unsuspecting women, Fasola to send bars of gold and millions of US dollars to his victims. He however requested them to send monies to him through Western Union, Moneygram and often times through his bank account with Ecobank, Haatso branch.
The monies were supposed to be used to facilitate the shipment of the gold boxes to the UK as promised. His methods were so cunning that five of the victims actually came to Ghana to make the payments themselves.
According to the accused, he did not know how the monies got into his account, but had sent most of the monies to his friends in South Africa and in the UK.
The total amount of monies involved in the scam was estimated at £ 735,000. When the accused was confronted in court, he denied knowing all but one of the victims he had defrauded.
The one person whose name sounded familiar was in connection with a friend's friend and not with regards to any correspondence relating to dating or remittance of money.
The charges of illegal possession of a firearm and possession of forged document, it resulted from a search conducted in his house, where an unlicensed gun and a passport with his picture but the name 'Prince Asamoah' were retrieved.
Forensic analysis of his mobile phone a Nokia 900 and his mobile telephony network number showed record of phone calls and exchange of text messages between the accused and some of his victims.