Vivo Energy Ghana Launches Shell FuelSave In Ghana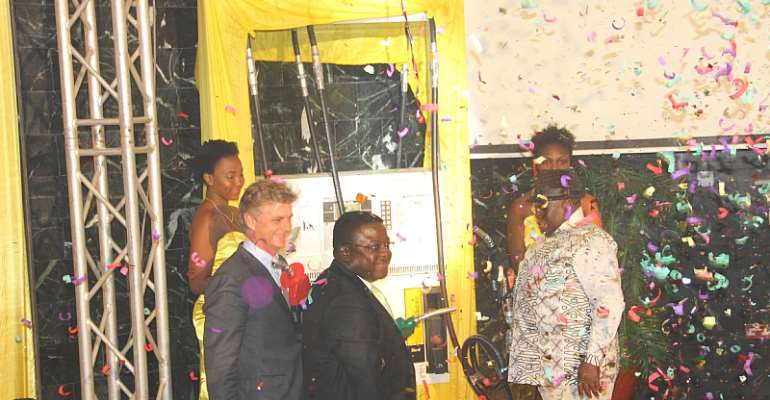 Accra – 22nd April, 2015 – Vivo Energy Ghana, the exclusive distributor and marketer of Shell branded fuels and lubricants has launched Shell's most advanced economy fuel, Shell Fuel Save in Ghana and now available at Shell Service Stations nationwide.
Shell FuelSave which has been designed to last for longer, at no extra cost comes in both Super and Diesel product formats.
Speaking at the launch of the product, the Managing Director of Vivo Energy Ghana, Mr. Ebenezer Faulkner said Shell FuelSave Super and Shell FuelSave Diesel will replace the current Shell Super Extra and Shell Diesel Extra product across the over 150 Shell service stations in Ghana.
Touching on the benefits of the new products, Mr. Faulkner said, Shell FuelSave Super is designed to reduce energy losses in the engine and help improve engine's efficiency to get motorists a little further on each tank. According to him, Shell FuelSave Super is designed to keep inlet valves clean, prevent deposit formation and improve engine efficiency.
"Shell FuelSave Diesel is also designed to ignite and burn more effectively to help improve fuel economy. The product contains special detergents designed to maintain engine condition by helping to prevent the buildup of injector deposits" said Mr. Ebenezer Faulkner.
Mr. Faulkner further stated that, Shell FuelSave Super should be differentiated from V-Power because they serve different customer needs. "Shell FuelSave Super is an advanced fuel economy super positioned to serve customers who want to enjoy more fuel economy benefits, but at the same price as regular super and thereby saving on their fuel consumption. V-Power on the other hand, is a premium, high octane and high performance fuel positioned for customers who want to experience the superior performance of their vehicles. Shell FuelSave Super and Shell FuelSave Diesel are being sold to motorist at the same prices as the regular super and diesel. V-Power on the other hand is sold at a price above regular Super".
In a speech read on his behalf, the Minister of Petroleum, Honourable Emmanuel Armah-Kofi Buah, commend Vivo Energy Ghana for being the market leader in total fuels in the industry and constantly providing an exceptional retail experience at each and every one of its service stations, reaching more people with better products and services wherever they do business.
"Vivo Energy Ghana recently inaugurated the first ever fuel pumps for motorbike in the Northern Region, which clearly demonstrates how innovative the company is by delivering new and exciting products and services that offer convenience to customers, and that are specific to their needs. The launch of Shell FuelSave marks another milestone in the growth and development of Ghana's energy sector and this should be a source of relief for motorists, and I would want to commend Vivo Energy Ghana for being the leader in fuel innovation" said Honourable Emmanuel Armah-Kofi Buah.