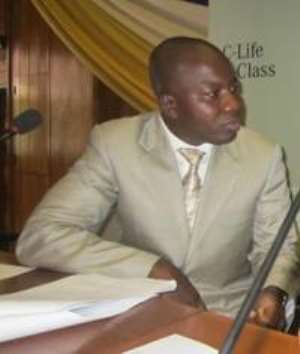 Since this is my first article for this year, let me wish you a happy new year and pray that God keeps us all alive.
I was pushed to write by the arrogance and excuse me to say stupidity being exhibited by Mahama Ayariga. Who the heck does he think he is?
Why is it that he feels uncomfortable anytime he is ask about Afcon budget on air? Has he done his thing again?
Ayariga got away with the tractors but not this one. He will account whether he likes it or yes.
His excuse that we should celebrate the stars rather than seeking accountability his absurd. This isn't the first time we've been to the finals and it won't be the last.
It about time we tell Ayariga and his likes that they are there to serve us and not to insult us. President Mahama must show leadership by sacking Ayariga. If he fails to do so, I'll urge the media to boycott all events that has to with the sports ministry.
Did I hear Kofi Adamu Adams ask of npp's alternatives to the power crisis?
Well the only alternative is for Mahama to resign that's all.
Folks we must drop this corrupt, incompetent, useless and visionless YAM come what may!!
The local league has started and the Kum Apem lads have managed only 8 points out of a possible 24. Things are really getting bad and Didi Dramani must sit up and turn things around. I don't think it's right to sack Didi.
Congratulations to Kwaku Ahenkorah on his appointment as the communications manager of Krobea Asante Kotoko. I still believe in the Kum Apem spirit!!!
I nearly forgot about our demonstration dubbed Wo Gbo to wit we are dying. I urge you all come so we can tell Mahama in his face that we are sick and tired of the dum dum dumsor .
I'm still for Nana!!
Folks, Npp beku me!!!