Winning Election 2016; Mahama's Ultimate Goal!!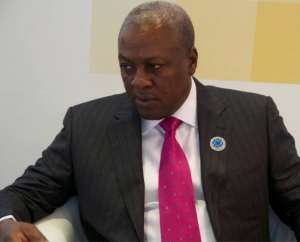 Have you ever wondered why Mahama and his government have always tried to shirk off the idea that this country is in crisis? They would rather call it a challenge but not crisis. Well, if you ever think Ghana's economy is in crisis then better have a rethink. The wailing and moaning of Ghanaians and their businesses regarding the harsh economic conditions is in fact nothing to Mahama and his government. A demeanor many think is a deliberate posture of government; as government will say "YentieObia".
Nevertheless, circumstances surrounding Ghana's economy now leaves one to think what could be wrong. Under President Mills of blessed memory, majority of Ghanaians questioned the leadership approach of the learned professor. He was regarded as a slow and weak president. But under his watch, Ghana had a record of having single digit inflation for a long time. The economy was placed or seen as one of the fastest growing economies in the world, holding firm to its accolade of a middle income nation.
In less than two years after the untimely demise of the learned professor, one is left to ask; what could have gone wrong with this unprecedented economic turnaround. High cost of living, continuous rise of inflation, abnormal depreciation of the Ghanaian currency against other currencies, abnormal power cuts, water shortage, high cost of petroleum products, high cost of taxes etc.
Could this be a result of bad governance and decisions by the Mahama lead government? Could this be corruption? Could this be a result of the single spine salary structure as government in countless times tried to alluded Ghana's woes to? The argument can simply not be as a result of the SSSS. Many debates and arguments including that of Dr. Bawumia and Dr. KwesiBotchway have all refuted to likened Ghana's current economic woes to the introduction and 85% implementation to the SSSS. Again, in as much as most of us believe the Mahama lead government is simply not getting things right, one could also not be limited to think it's a calculated strategy just to deceive the "ignorant" Ghanaian people for votes in the upcoming 2016 general elections. I say this because it is widely used by the incumbent government for reelection.
I remember in the run up to the second round of the 2008 presidential election between the NPP and the NDC president Kuffour had every opportunity to reduced fuel prices before the second run of the election but his government waited and did the reduction just before the second round of the elections, which most Ghanaians were able to read into that strategy.
Policies are decisions which can be taken at any time for an effect only known to the government. This I believe is what the Mahama lead government is employing in Ghana now.
Right from the first year of his administration, President Mahama made it clear he was in his "1st gear", Ghanaians should relax they will see a different Ghana by the time he gets to "4th gear". The second year is almost getting to an end; Ghanaians still do not know which gear the president is. No amount of the citizen agitations has woken the president up. All he keep saying is Ghanaians should relax, there is light at the end of the tunnel. In fact this is not a saying always emanating from the president no! Almost all his appointees keep assuring the Ghanaian people to relax for the NDC government is bent on delivering on its better Ghana agenda even though every Ghanaian see and feel there are only worst times ahead if the current economic conditions persist.
But wait a minute, what at all makes this government so hopeful of tomorrow, end of the tunnel, 2015/2016? Of course I remember the akan proverb which says "be careful if the blind man tells you he will throw a stone at you". That blind man might be standing on a stone. So what is the president standing on? At the just ended EidFatir celebration in the Ashanti region, president Mahama reiterated this hope again saying Ghana's economy will blossom in 2015/2016.
Of course, Ghana could simply not be said of not working. Ghana could simply not be said of SSSS taking all its revenues not when the economy is regarded as an oil producing nation. The money must be sitting somewhere waiting to be used. And this is what the president intends to do, releasing the economy in an election year. On the record, they burn markets to build what they call modern markets; they cut down trees to plant trees without considering the consequences. This is what they are doing to Ghanaians and the economy without considering what the people are going through now.
Have you asked yourself how a country regarded as so broke and financially challenged could raise more than US$4Million in the a twinkle of an eye to be sent to solve a matter of "if you don't give me I will not play?" issue in Brazil. The money is somewhere waiting to be released for aggressive projects in the election year just to wow people as if the NDC government is indeed working for you.
It is the only strategy the Mahama lead government can employ to canvass votes from ignorant Ghanaians in 2016, the "I am working for you strategy" is well laid out by President John Mahama. They careless about the next generation but will do anything to win the next election.
Things Mahama could have done but waiting for 2015/2016 to do:
1. 50 community schools each year for 4 years (200 community schools)
2. Free senior high education
3. Accra-Kumasi Suhum road
4. West Africa Gas pipe-line
5. Bui dam
6. 10 new college of Education
7. Tamale airport
8. Eastern region university
9. A single digit rate of inflation
10. An overall budget deficit equivalent to 5% of GDP etc.
The Mahama lead government will in a matter of gaining the peoples trust try and embark on a number of these projects in the years 2015 and 2016. However, I don't want to sound deluded by this "working for you strategy" because I doubt the conscience of Ghanaians. Just like Mahama said, Ghanaians easily forget about issues. Some Ghanaians will fall to this strategy but others will not; So I ask how many Ghanaians will know this is a strategy by president Mahama to retain power?
I rest my case! Cheers.
[email protected]
www.http://[email protected]