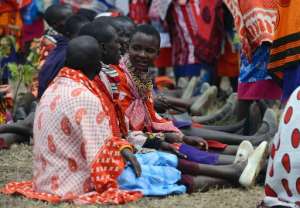 According to James Kusi Boama, Upper East Regional Programe Manager of ActionAid Ghana, "the cross-border activity of perpetrators of FGM is alarming, as most Ghanaian parents cross the borders to Togo and Burkina Faso to cut their children and bring them back to Ghana. This is because the communities that patronise the practice are now aware that FGM is criminal in Ghana." While FGM is outlawed in our neighboring countries, including Togo and Burkina Faso, the perpetrators prefer the "cross-border cutting" because nobody will identify them and report them to the police.
There has been heightened interest in FGM in Ghana since a law was passed in 1994 to criminalise the act. The FGM Law (Act 484) provides that "whoever excises, infibulates or otherwise mutilates the whole or any part of the labia minora, labia majora and the clitoris of another person commits an offence and shall be guilty of a second degree felony and liable on conviction to imprisonment of not less than three years."
Other legal provisions such as Article 26 of the 1992 Constitution backs the FGM Act, where it states that "All customary practices which dehumanise or are injurious to the physical and mental wellbeing of a person are prohibited."
To fight against the "cross-border cuttings," James Boama reports that "ActionAid is collaborating with local NGOs in the neighbouring countries to report Ghanaians who are found to be indulging in the practice. Culprits will be made available to the police for prosecution. ActionAid will also be relying on COMBAT (Community Based Anti-Violence Teams), a local community structure trained by the police in domestic violence law and arrest procedures, to monitor and report new cases."
Female Genital Mutilation, also called 'Female Circumcision' "comprises all procedures involving the partial or total removal of the external female genitalia or other injury to the female organs whether for cultural, religious or other non-therapeutic reasons."
In Africa, more than 3 Million girls face the risk of FGM every year, and it is estimated that about 140 million girls around the world have been cut. In Ghana, FGM is mostly practiced in Upper East, parts of Upper West, and among the Kotokoli people of the Volta region. However, migration within Ghana makes FGM a national crisis.