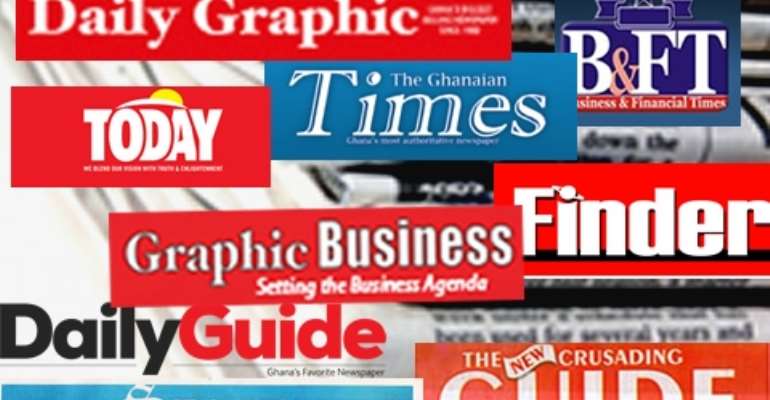 SPOI ON WARPATH – URGES BANKS TO REDUCE INTEREST RATES
The minister of Trade and Industry, Ekow Spoi Garbrah, has declared war on interest rates in an effort to drive down the cost of borrowing within the banking and financial sector.
RETRIEVE ALL STOLEN MONEY IN 30 DAYS – A-G TOLD
Occupy Ghana, a pressure group, yesterday presented a letter to the Auditor General demanding an explanation from him on the steps he had taken to retrieve money misappropriated by public officials as captured in his annual reports.
NPA RULES OUT REDUCTION IN FUEL PRICES
The NPA says it will not reduce the prices of fuel, in spite of a heavy fall in the price of crude oil on the international market and the stability of the cedi against the major currencies.
AFAG DEMO HITS MAHAMA
Traffic in the Accra business district came to a standstill yesterday when the Alliance for Accountable Governance (AFAG) embarked on its much talked about 'Aagbe Wↄ' demonstration.
INCEST DAD JAILED 18 YEARS
The Kumasi gender-based court, presided over by Janet Anima Maafo, has sentenced Victor Danso, 37 years of age to 18 years imprisonment in hard labour for sleeping with his daughter to compensate for paying for her school fees.
SPEAKER CLASHES WITH MAJORITY
The speaker of Parliament Edward Doe Adjaho, yesterday lambasted the leadership of the ruling NDC in Parliament for what he said was their poor coordination with ministers of State who are summoned before the House to answer questions posed by Members of Parliament.
EBOLA: GHANA BORDER HOLLOW
Contrary to information by government that the country is well prepared to tackle any Ebola case, the Parliamentary Select Committee on Defence and Interior has said frontline security personnel are at "serious risk" should any infected person arrive at a border with the virus.
STARR FM DONATED GH₵10,000 TO SIERRA LEONE
Starr FM, a member of Excellence in Broadcasting (EIB) group, chaired by DR Kwabena Duffour II has oresented a cheque of GH₵10,000.00 to the Sierra Leone High Commission as its contribution towards the fight against the deadly Ebola virus killing thousands in West Africa.
NTOW, AKOMEA CLASH OVER AKUFO-ADDO LOSING 2016 ELECTION
A former General Secretary of the opposition NPP and spokesperson for three-time defeated presidential hopeful, Alan Kwadwo Kyerematen, Nana Ohene Ntow is livid over what he calls falsehood being circulated in the media that he has said Nana Akufo-Addo will lose the 2016 general election.
PENSION RUMPUS – ANY END IN SIGHT?
Come January next year, some retired workers will qualify for their lump sum under the second tier pension scheme, but such persons should by now be wondering what their fate could be as issues surrounding their pensions are yet to be sorted.
INVEST IN RESEARCH, BANKS TOLD
Beyond the rigorous drive by banks and financial institutions to grow deposits and increase profitability, they must of necessity invest sustainability into research and development, an area often neglected by many.