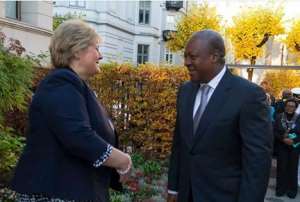 The NDC in opposition chastised the then president, Mr. Kufour for travelling. They claimed he travels too much but what they forgot to add was that Kufuor's numerous travels yielded positive results for Ghana.
Some of the positive things Ghana got from Kufuor's travels to mention few are Peugeot cars for the police service, jubilee house, George Bush highway, school feeding program, oil supply etc.
Fact is kufuor's travels did impact positively on our country.
As civilized as I am, I won't play politics with the numerous travels of President Mahama but rather ask of the impact of his travels since he became president.
Upon all mahama's uncountable travels, what good has come of it? Is it stx or what? For about three months the president hasn't stayed in Ghana for a week. He only visits us when he feels like visiting. 12 labour unions are on strike and the president is no where to be found in the country. Is it that he doesn't care or what? What at all is wrong with our president?
The labour unions are demanding for their tier two pension money but as usual this sikadisious gov't is playing hide and seek with the workers. Rumor has it that the money was given to for thieves to purchase merchant bank.
Did I hear gov't say we should trust them? Trusting this mahama led ndc gov't would be the most craziest thing one would do. This is a gov't that owes SSNIT, NHIS etc. so where would they get the money to pay the pensioners next year January?
I'm still for Nana.
Folks NPP beku me!!!
Domfeh . K. Gyeabour