Labour Minister Doesn't Understand Pensions - ICU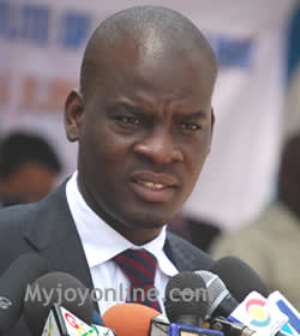 Haruna Iddrisu
Solomon Kotei, General Secretary of the Industrial Commercial Workers Union (ICU), says he is convinced that Haruna Iddrisu, Minister of Labour and Employment, Haruna Iddrisu does not appear to understand the issues pertaining to the second tier pension scheme and is relying heavily on "grammar' to make his case.
Speaking on Metro TV's GoodEvening Ghana programme, Thursday in Accra, Mr Kotei said Haruna must take his time to understand the issues and concerns of workers on the controversial second tier pension schemes and stop chastising labour unions.
According to him, he suspects the Minister's relatively short period in his new capacity could be responsible for his misunderstanding of workers' concerns on pensions and its related issues.
Some 12 public sector unions, including the Ghana Education Service, National Association of Graduate Teachers (NAGRAT), Ghana Medical Association (GMA) and Judicial Service Workers Union, are protesting against government's handling of the tier two pension scheme.
The strike, which started on a low key, appears to be hitting a crescendo, with patients  being turned away from hospitals because there are no doctors and nurses on duty.
Pupils also loiter on school compounds because there are no teachers to teach.
Government has criticized the decision by the workers to lay down their tools describing it as illegal.
Hon Iddrisu, in an interview, said government will not shirk its responsibility by leaving the second tier pension schemes in the hands of individual trade unions and their fund managers.
Per the new Pensions Law, SSNIT is to take a chunk of savings of workers with five percent of the savings going to another fund manager.
Government has set up the Pensions Alliance to handle the five percent for and on behalf of worker unions until such a time that individual fund managers are appropriately licensed and equipped to manage the fund.
But the workers say the Pensions Alliance option is an imposition on them.
They say they would rather have their individual fund managers manage their five percent than have another government entity manage it for them.
Christian Addae Poku, President of NAGRAT, said with less than three months to go for the first batch of workers to go on retirement under the new law, they do not know how much the second tier scheme has grossed  neither have they been given any statement.
The workers say the strike is to put pressure on the government to buck down on its management of the scheme and give them the free hand to manage their own funds with individually appointed fund managers.
Solomon Kotei said while members of the ICU are still at work, they will be forced to join their colleagues on strike if government does not provide them with statement of the five percent contributions from 2010-2012 by November, this year.
He explained that they managed to get their own fund managers who have received the five percent contributions between 2012 till now, but they will still need details of the contribution from 2010 to 2012 to add up.