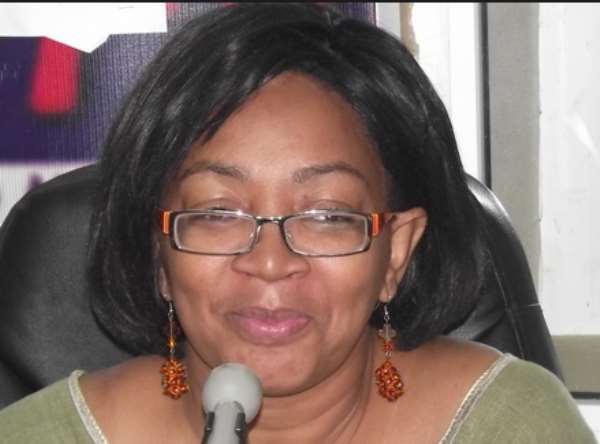 Richard Nyamah and Lauretta Vivian Lamptey
Progressive Nationalist Forum (PNF), an anti-corruption group, has asked the beleaguered Chairperson of the Commission on Human Rights and Administrative Justice (CHRAJ), Lauretta Vivian Lamptey, to resign immediately or be dragged to court.
'The PNF is humbly requesting Ms. Lamptey to resign her post as commissioner of CHRAJ or the president should dismiss her with immediate effect. Failure on her part to resign and should the president fail to fire her, the PNF will bring a case of conflict of interest against Ms. Lamptey before the commission in the next seven days…,' the pressure group charged.
Ms Lamptey has become the latest head of a state institution to be embroiled in allegation of wanton misapplication of state resources following news that the taxpayer spends over $200,000 on her accommodation at a time when the human rights body is clearly starved of funds.
The PNF statement, issued in Accra and co-signed by Richard Nyamah and Fred Amankwah- Sarfo, recounted the harrowing experience they went through at the hands of the CHRAJ boss when they filed complaints against certain corrupt officials in the system.
Lack Of Commitment
'We wish to reiterate our call for the dismissal of Ms. Lauretta Lamptey made in 2012, questioning her competence as well as commitment to fighting corruption. It is sad to note that three years down the line, she has vindicated us by being in a conflict of interest situation not for the
first time. Our red flag was not noted then and we pray it is now,' PNF recounted.
The statement recalled, 'Let every Ghanaian note that Ms.
Lamptey was forced by the court of public opinion to resign her post as board member of the Ghana Commercial Bank when she initially justified her right to hold both that post and be the Commissioner of CHRAJ.'
It underscored, 'For us as an anti-corruption NGO, this clear justification of a conflict of interest situation, in itself a type of corruption, was a clear manifestation of the fact that Ms. Lamptey could not in her own mind define her mandate as commissioner of such a distinguished organization, let alone use that mandate to fight corrupt officials in the interest of the public.'
No Experience
The group said that the CHRAJ boss came to the job 'without any experience whatsoever in the field of human rights and anti-corruption,' adding that 'In fact, our search indicated she specialized in banking and
finance rather than human rights and anti-corruption. Ms. Lamptey from the onset was not qualified with all due respect to her, for this job.'
Opuni Angle
According to the PNF, she failed or refused to hear a clear case of corruption which it brought against Dr. Stephen Opuni, then head of the Food and Drugs Board (FDB) and now Chief Executive of Ghana Cocobod, which ironically involved his rent of official accommodation as well as office accommodation saying, 'These had been done without authorization either by the board of directors nor then Minister of Health, Dr. Sipa Yankey.'
Dossier
The statement claimed, 'PNF, with the aid of ace investigative journalist Anas Aremeyaw Anas, had built a dossier and credible witnesses including Dr. Sipa Yankey and Prof Alex Doodoo, then chairman of the board. Former commissioner, Emile Short, before he could call for a public hearing of the case, retired. Ms. Anna Bossman also resigned
before she could hear the case,'
'An official reminder was sent to CHRAJ for them to open a hearing of the case to which the reply was to give her time to study the dossier and get the case called as she had just assumed office. It has been four years since
we launched a complaint, three years after Ms. Lamptey assumed office; our case against Dr. Stephen Opuni is yet to be called.'
It said, 'In the meantime, Dr. Stephen Opuni has gone on to take up bigger responsibilities in which he has been entrusted with huge public funds such as the CMB syndicated loan of $1.7b. Though we are not alleging corruption in his new role, we do not trust him to handle such huge funds with such a case still hanging around his neck.'
Moral Right
PNF said, 'It is interesting to note with hindsight however that Ms. Lamptey did not have the moral right to call Dr. Opuni to account for his stewardship if she herself was engaged in the same corruption saga….'
High Profile Cases
'Over her reign as commissioner, not a single high profile case of public interest has been heard, compared to Justice Emile Short, who in the space of a year, heard cases against Mahama Ayariga and Muntaka Mubarak,' all ministers of state.
BY William Yaw Owusu