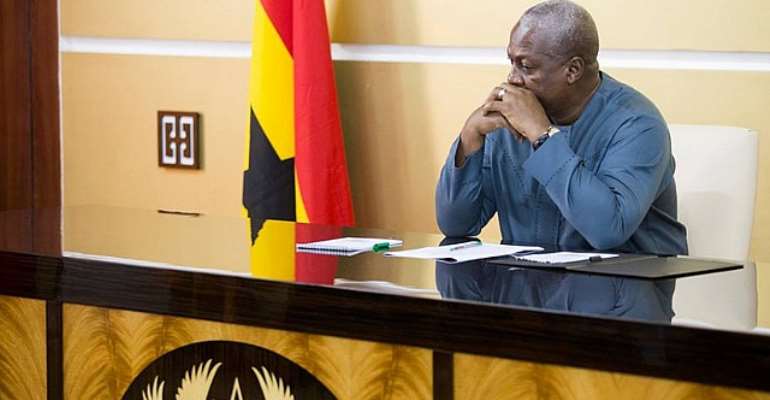 Dynamics
I wake up every day of my life as a Ghanaian and there is one question that comes to mind; where have we gotten to as a nation? Ghana in recent has witnessed a number of labor unrest including strikes and demonstrations. On 21st July, 2014, the Industrial and Commercial Workers Union (ICU) went on demonstration to express their displeasure of the worsening economic conditions in the country. Chiefs in the Eastern Region on that same day went on a peaceful march and their concern was on the bad nature of roads in that region. Polytechnic Teachers association of Ghana (POTAG) has been on strike for the past two months over book and research allowance.
Organized labor led by Trade Union Congress (TUC) has indicated that, it will embark on a nationwide demonstration to register their concerns on the high cost of living on Thursday, 24th July,2014. Workers of Tema Oil Refinery (TOR) have also indicated to join the TUC nationwide demonstration.The Greater Accra Regional branch of Conference of Heads of Assisted Secondary Schools (CHASS)is threatening to close down Senior High Schools (SHS) in the region following government's delay in paying subsidies. Railway workers have also hinted to go on strike over low wages and salaries. Moreover, Nursing Training College students have also hit the streets to register their displeasure over unpaid allowances.
Do we have to wait for people to hit the street before we attend to them? Where have we gotten to? Of all the unrests, fingers are pointed to government.These occurrences have a tendency to threaten the security of this country if not attended to. Let me remind Ghanaiansthat, the issues that led to rampant coup d'etats and political unrest in 1960's, 1970's and early 1980's are not different from what is happening now. In 1992, Ghanaians accepted to go the democratic way and after twenty-one (21) years of practice, how do we address the challenges and consolidate this democracy? Security concerns must not be taken lightly in these times.
WHAT WENT WRONG?
Ghanaians in recent times have to battle with high cost of living. The sky rocketing utility prices, petroleum prices, dwindling value of the cedietc have triggered the rate at which prices of goods and services are increasing. Inflation rate for June 2014 was 15%; the highest since 2010 according to Ghana Statistical Service. High cost of living not accompanied by increase in salaries has caused Organized Labor to agitate. On 1st may, 2014, the executive secretary of TUC; Mr. Kofi Asamoah in his workers day speech warned government not to sign on to the Economic partnership Agreement (EPA) but at the recent 45thordinary session of the ECOWAS heads of states, the body signed the agreement. But let me ask; are local industries ready to compete with their European counterparts? How do you expect a country with unstable power supply, high cost of credit, high utility tariffs, depreciating local currencies among others to compete effectively?
PAYMENT OF STATUTORY FUNDS
Delay in the payment of statutory funds like District Assembly Common Fund (DACF), National Health Insurance Levy (NHIL) and Ghana Education Trust Fund (GETFUND) among others has fueled untold hardships on Ghanaians.The government of Ghana has failed to pay on time some statutory funds notably National Health Insurance Scheme. Ghanaians pay Value Added Tax (VAT) of 17.5% and 2.5% goes to health insurance. This shows how important healthcare is important to Ghanaians. Why do we have to wait for healthcare providers on NHIS to withdraw their services before something is done about it?
What about education; Last week, heads of basic schools expressed their ordeal to government for non-payment of capitation which has not been paid making it difficult to manage the schools effectively. In the same vein, Conferences of Heads and Assisted Secondary Schools (CHASS) have hinted a shutdownof high schools because subsidies from government have not been paid for the past three terms. What pains me is the demonstrating Nursing Training College students who should be in the lecture hall but on streets demonstrating over unpaid allowances. Why should we get to this stage?
FISCAL INDISCIPLINE
One major thing that has plagued Ghana into this current crisis is fiscal indiscipline. What do I mean by that? The gross indiscipline in government revenue collection and disbursement of expenditure has contributed to the current crisis. Corruption both grand and petty has ruined our economy. The actions and inactions of Ministries Departments and Agencies (MDA'S) and Metropolitan Municipal Districts Assemblies (MMDA's) have caused this nation greatly. Some civil servants and politicians have sucked the nation off millions of cedis. Oh Ghana!!!!
In that same vein, the ministry of finance must put ceiling on the budgets of MDA's and MMDA's to enable them spend within their limit.We lose millions of cedis in procurement and contract awarding and we must pay attention to that. Government has missed revenue targets in recent years posing pressure on the public purse and forcing government to borrow. There is a serious leakage in revenue collection and can be linked to 'fetching water with a basket'. Government must retrieve all illegal judgment debts and other known misappropriation of public funds.
WHAT SHOULD BE DONE
Short-term Measures
I always say that, leadership is about effective communication backed by hardwork and honesty. Humans are fallible and our ability to acceptand correct ourmistakes is a sign of great leadership. It seems that, government has not shown enough concern to the plights of Ghanaians especially striking workers. For example: POTAG has been on strike for the past two months but government has not been able to resolve theissue to the extent thatUTAG has indicated to join the strike. Government is about to scrap the book and research allowance and replace it with a national research fund and has funded it with 15 million cedis.
The challenge is that, government and other stakeholders have not been able to reach a consensus. The rising cost of living has been fueled by sky rocketing prices of goods and services, depreciating cedi, interest rate etc. The government must put in more fiscal consolidation measures to cut down deficits and debts. Moreover, government should hold on implementing new taxes and thrive to disburse expenditure wisely.
Medium to Long-Term Measures
I welcome government's measures like GIFMIS, HRMIS to address expenditure lapses in our economy. Again, effective and more durable long-term public financialmanagement systems, including GIFMIS will lead to better control of extra-budgetary expenditures as well as increased efficiency in public expenditure management; and benefits from the next generation of revenue reforms, to improve efficiencymainly, by moving all GRA tax processes to an electronic platform in order to enhance tax administration.
I also welcome the upgraded payroll system that has been integrated into GIFMIS to facilitate budgetary control over payroll costs.Electronic Salary Payment Vouchers (ESPV) system is to provide online access to heads of management units and human resource managers. It will enable them give prior approval for the number of staff and amounts to be paid to them for a particular month. This initiative will help government eradicate 'ghost names' from the payroll.
The revamping of Tema Oil Refinery (TOR) is long overdue. Why do we import light crude whiles we have a refinery? This will help us solve the price hikes in petroleum products. Again, government must put up petroleum reserves to store crude oil for future use especially when prices go up on the international market. Taste for foreign goods by Ghanaians is on the rise and what is government doing about that? Serious policy intervention in import substitution and export led-growth industrialization should be a priority especially in agricultural and manufacturing industries. Indeed, we are going through harsh economic conditions now but I believe that, when government and the good people of Ghana rise up to the occasion, we shall surely come out of it.
Amoah-Darkwah Emmanuel
Associate Chartered Economist
[email protected]
0245683297