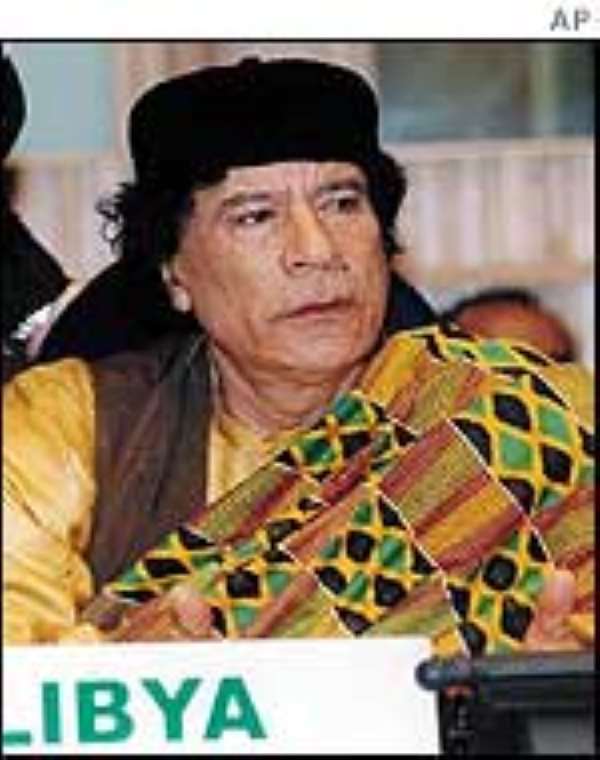 Accra, April 29, GNA - The Reverend Frederick Fafanyoh Kwame Logah, Former Sales and Marketing Manager of Sea West Fishing Company on Thursday told the national Reconciliation Commission (NRC) that Libya facilitated the December 31 1981 Coup by supplying arms. Reverend Logah who was testifying at a public hearing of the Commission in Accra, said the arms came across the Sahara Desert and were shipped from Cotonou, Benin to Ghana by a Mankoadze Fisheries Company vessel.
He said Mr Paul Victor Obeng, was founding partner of Mankoadze Fisheries.
Mr Obeng later became Member of the Provisional National Defence Council (PNDC), and Special Advisor on Governmental Affairs after the PNDC came to power in 1982.
The Witness said his late brother; Sammy Logah was the Administrative Officer of Sea West Fishing Company in Tema.
He said in May 1982 two recalcitrant workers in one of their vessels reported them to the Military authorities and they were arrested by one Sergeant Agorha and detained in the Base Workshop for seven days on the orders of Naval Captain Baafour Assassie Gyimah, who later told them that he had also ordered the arrest of their vessels because the workers were his relatives.
Reverend Logah said Sgt Agorha later sold 3,000 crates and 2,000 cartons of fish in the seized vessel without giving them the proceeds. He said during their detention Sgt Agorha seized the bill of laden for two Mercedes Benz cars a brother had shipped to them and added that either Agorha or Assasie Gyimah might have used it to take delivery of the cars.
Witness said Naval Capt Assassie Gyimah ordered them not to go to the Port again and when they opposed that injunction they were re-arrested by Sgt Agorha, who parked a number of people in the back of his car and opened the heater on them.
He said he detained them at the Gondar Barracks for more than three weeks, and then made them to appear before the then National Investigations Commission, which Professor Kofi Nyidevu Awoonor chaired. Rev Logah said the Professor Awoonor asked him why he went to the Port. He said the Panellists on NIC "tried to use all sorts of communist inferior tactics to cajole and frighten me."
Rev Logah said he was drilled before his wife and a year old baby at the NIC, and when he and his brother were released, the Company's assets as well as a house under construction, were confiscated. His father out of the trauma suffered a stroke and died. He said about 350 workers went out of job as result of the confiscation.
The Most Reverend Charles Palmer Buckle, a Member of the Commission, described the incidents as daylight robbery. Another Witness, Ex Lance Corporal Emmanuel Dumefeh said he spent a year in jail, and 78 days in the guardroom on an unwarranted charge of absent without official leave and smuggling made against him by the Military Authorities in 1975.
He said he was discharged from the Army after his jail term and prayed the Commission to reverse his dismissal to enable him to have benefits for his nine years service.
Meanwhile the Commission moves to Wa next Monday to hold its hearings there.