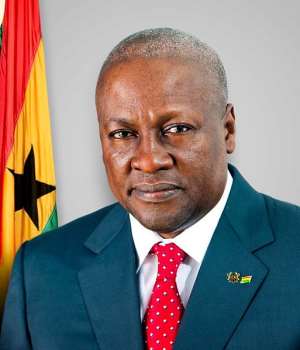 Why, How And From What Money Did The President of Republic of Ghana, John Dramani Mahama Use To Do The "Black And Blind" Investment Outside His Own Country?
The Zion train of prosperity is standing on the house door of Ghana President John Mahama and will be stopping only at the doors of some Ghanaian top men and government ministers.
The rate at which most members of the Ghanaian government especially government ministers are swimming in properties through dubious and selfish means at the expense of the entire country is abnormal and aching.
This defiance has now engulfed no other person that the President of the Republic, Mr John Dramani Mahama.
Somewhere in 2011, it was reported by Mr Alhaji Idrissu Bature, Editor of the Al Hajj newspaper and currently one of Ghana's honest and credible journalists, on Asempa radio station in Accra, that there was a seemly cold war and hostility between the then President John Evans Atta Mills office and the then Vice President Mahama's Office.
The NDC reporter, Alhaji Bature, in an effort not to soil the image of the government in public, declined to comment further about the tension that prevailed at that peculiar time between the late Mills and Mahama. However, further investigation by the New World revealed that the then Vice President Mahama, deliberately kept himself out of the power struggles in his party but was quietly shamelessly using his office as the second gentleman of the land to build up a huge property portfolio in the Middle East, Europe and Far East.
According to "New World" John Mahama, through the support of the Al Raskia Holding Company in Doha, Qatar bought a 4 million dollar stake in a Hotel, The Grand Heritage Hotel and Spa in Qatar in a manner that raised eyebrows as this money was transferred from an offshore account in his name registered in Gibraltar.
Now, the question is, where did the (then) president get that gargantuan amount of money and why as a (then Vice) President hiding money from the Ghanaian public and besides investing in a foreign company?
This is clearly not far from a conflict of interest. Again, where did the (then Vice) President of Ghana, Mahama, come by such a huge amount of money after only 2 and a half years in office?
The next simple explanation the Ghanaian people need is how and why (the then Vice) President Mahama was involved in the Nordska Shipping and Mining Company based in Helsinki, Finland. In December 2010, this company was bought by unknown persons for 200,000 dollars.
It was stated in a Finnish weekly Newspaper about the rise of Nordska as a shipping force owned by a Ghanaian and was later found out that the owner and sole director is no other person than John Dramani Mahama and secretary of this company is one Mrs Barbara Essuman, who owns a catering firm Barbara's Food Distribution PLC in Los Angeles, USA who is a known fundraiser for the NDC abroad.
How and when did Ghana President Mahama purchase this company which is not recorded in the list of assets he, Mahama declared in 2009, as the (then Vice) President of Ghana?
Where is the President driving the Ghanaian people to?
- 80 million Dollar worth Gold seized in a flight from Ghana (and of course a Ghanaian Gold) in Istanbul/Turkey.
- Ghana Government official using American hired Jet/plane on private business trips in Iran.
- 17, 5% Tax increment on Import Duty.
- 17, 5% VAT on Bank Data Processing.
- SADA project money vanished long before the already died trees were planted.
- The National Guinea fowl poultry farm project existed only on paper but millions of Ghana Cedis went lost physically in the project. (A made in Ghana Project, Guinea fowl poultry farm which exists only in Burkina-Faso)
- No Cent retrieved from Alfred Agbesi Woyomi's 52 Million Cedis Bad judgement Debt.
- John Mahama/NDC sold Ghana owned Merchant Bank for a peanut to Fortiz Equity Fund.
- John Mahama's brother, Ibrahim Mahama, is indebted to Merchant Bank to the tune of US$38 Million.
Where is the "Better Ghana Agenda," is there any future for Ghana?
FRANCIS TAWIAH (Duisburg - Germany)