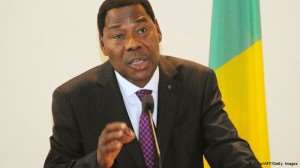 Africa's economies are consistently growing faster than those of almost any other region – and at twice the rate of the 1990s. This has led to improvements in several areas such as trade, mobilization of government revenue, infrastructure development, and the provision of social services. Indeed, over the last decade, Africa has been among the fastest growing regions in the world economy, and it is interesting to note that this improvement in growth performance has been widespread across countries.
 
Just some few years ago, news on Africa, whether the reality or perception, has suffered from extreme mood swings, with the pendulum moving from episodes of pessimism to bouts of euphoria. But what really is the case in Africa?
 
The impressive economic and political performance of Africa since the turn of the century has led to the description of the continent as 'Africa rising: the hopeful continent', 'Lions on the move: blazing a pathway to prosperity', 'Africa's rising middle class'; 'dynamic African consumer market'; 'Growth opportunities for investors' etc.
 
Exports are booming and export markets have become more diversified. Foreign direct investment has increased by a factor of six over the past decade. Private entrepreneurs have emerged as a dynamic force for change, driving innovation and transforming outdated business models. There is an emergent middle class, although its size is often exaggerated. For the first time in over a generation, the number of people living in poverty has fallen.
 
Fewer children are dying before their fifth birthday and more are getting into school. Steadier exchange rates, robust commodity prices, increased private capital flows and modest inflation are experienced in Africa. Africa has got a very good fiscal story with debt to GDP ratios at the sovereign level which are nowhere near the burden of what is seen in Europe, North America and other parts of the world.
 
 
Leading the frontier markets:
 
Emerging markets are the countries that are restructuring their economies along market-oriented lines and offer a wealth of opportunities in trade, technology transfers, and foreign direct investments. These are nations with social or business activity in the process of rapid growth and industrialization. Each of these countries is important as an individual market and the combined effect of the group as a whole is capable beyond all doubts to change the face of global economics and politics.
 
Africa has the potential to lead and direct global investments and take it rightful position in the global economy.
 
Rising middle class:
 
The world is getting richer and about 90% of the world's population lives in the emerging markets and the expectations are that we would have approximately 3 billion new people in the world's middle class by 2030 and a lot of those people will not just be coming from Asia but Africa.
 
Africa's middle class stands about 400 million people today and is estimated to balloon to 1.1 billion by 2060, thus representing 42% of the continent's population by that year. The increasing pace of urbanization and 'consumerization' in Africa is yet another force to consider. As Africans flock to cities and disposable incomes rises, their demand for modern goods and services, such as, telecommunications and banking services will accelerate. Global businesses whether based in Asia, Europe or the Americas as well as home-grown African firms can't miss out on this story.
 
 
Labour and Youthful Population:
Sub-Saharan Africa alone boast of a population of 872.3 million people. The labour story is very positive with 60-70% of Africans under the age of 25 and by 2050; Africa's population of 2 billion would have overtaken that of India (1.6bn) and of China (1.4bn).
 
This is a very young and dynamic population that global businesses and investors can leverage on. The continent is rich with untapped natural resources, arable land and ever buoyant consumer market. With a population of little over a billion, the continent possesses a strong consumer market for businesses. In terms of productivity, this continent is a great absorber of technology and is able to combine labour and capital to help spare economic growth.
 
Thus, with growth prospects buoyant, and the number of African consumers rising, businesses can no longer afford to ignore this vast continent, 54 countries and immense natural resources, including people.
 
 
An Infrastructure Deficiency:
Most operators in Africa will agree that the economic efficiency is not harmonized due to difficulty in accessing Africa's markets. Therefore, for Africa to realize its full potential, then a fully structured and sustainable infrastructure development is needed. Although the continent has successfully maintained an average growth rate of between 4 % and 6% for the past few years, Africa accounts for 12% of the world's population but only contributes 1% of global GDP and only 2% of world trade.
Faster growth in recent years has highlighted deficiencies, exposing bottlenecks in ports, roads, rail and power supply. Energy, water, sanitation, telecoms and transport have long being identified as a major setback to doing business on the continent. Energy supply continues to be Africa's largest infrastructure challenge with 30 countries experiencing frequent power outages with just over a third of Africa's population having access to electricity. Poor infrastructure cost each member countries growth to reduce by 2percentage point each year and cut productivity by as much as 40%.
Investments are needed in the areas of energy, water, sanitation, telecoms and transport etc. This is an investment space that global investors can tap into.
 
Rising Foreign Direct Investments:
According to the World Investment Report 2013, in 2012, foreign direct investment (FDI) inflows decreased in all three major economic groups âˆ' developed, developing and transition economies, although at different paces.
 
In developed countries , FDI flows fell by 32 per cent to $561 billion — a level last seen almost ten years ago. The majority of European Union (EU) countries and the United States experienced significant drops in their FDI inflows. FDI flows to developing economies remained relatively resilient, declining by only 4 per cent, accounting for 52 per cent of global inflows in 2012.
 
According to the report, Africa was the only major region to enjoy a year – on- year increase in FDI inflows in 2012. FDI inflows to the structurally weak, vulnerable and small economies rose further in 2012 from a small base of $56 billion in 2011 to $60 billion, owing to the strong growth of FDI to least developed countries (LDCs) and Small Island developing States (SIDS). Their share in the world total also rose, to 4.4 per cent from 3.4 per cent in 2011.
 
Five countries in Sub-Saharan Africa received FDI in excess of $3 billion in 2012. These countries are Nigeria, Mozambique, South Africa, Democratic Republic of the Congo and Ghana.
 
Among other things, structural reforms for financial, legal and political space when championed could open up the continent for more business and investment opportunities. Most of the continents sectors require conscious reforms to allow businesses to operate fully. The economic growth of the continent can continue to be on the rise if there are proper and convenient regulations for businesses and investments. Political disputes should be consciously handled not to serve as deterrent to foreign investments. Signs of political instability could stagnate or reduce the pace at which the continent would grow.
 
Africa is the Cheetah. The continent is ripe for investments and the opportunities across countries are enormous and these would continue to rise into the foreseeable future.
 
 
 
 
ABOUT THE AUTHOR
 
 
  Chartered Economist writes on the macro-economy and global affairs.
He is also an African Affairs Analyst and Emerging Markets Strategist.