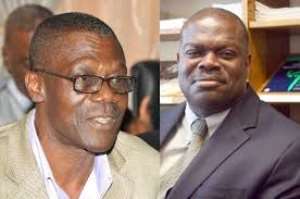 Well, as for the exact date, I must be honest with you, my dear reader, I have forgotten. What I do remember though, was that we had been woken up from our various beds at dawn to board a rickety bus from Takoradi to Tarkwa to cover a programme being organized by Goldfields Ghana Limited.  
You see, if you really want to hear real konkonsa stories, try and mingle with journalists. In fact, your ears will plead with you to shut it up. From politics to religion, sports to fornication stories, you will hear a lot.
In those days, there was this Agave lady (Agave is one of the Ewe ethnic groups) who was selling fofuo (fufu) and bush meat at Apimanim, at Axim and Tarkwa junction. By 6am, her fufu was ready.
So when our rickety bus got to the place, the driver was signalled to stop, which he obliged. We all got down satisfying ourselves with balls of fufu prepared by Daavi, as every Ewe lady is called by non Ewes.
With our stomachs full of the local dish, spiced by the local gin, some call it ogogro, Ewes will say zorabi , you, my reader, can also call it akpeteshie , we continued our journey to Tarkwa.
Few minutes into our sixty miles journey, the ogogro began to perform the duty assigned to it, by seizing control over the nervous system. The arguments and story telling then began to pour in.
One of my best friends, who is now domiciled in London, then started a story which we all considered as a folklore, but he insisted it was a true story.
According to him, when he was a kid, there was this Nigerien man, whom Ghanaians call Zamramaman, in his village called Breman Asikuma.
This Zamramaman, whom he named as Yakubu, had two wives and one of them was called Ayishetu, who was so beautiful that she was envy of the boys in town. Yakubu was a barber, who took care of the men in the village.
Kwesi Addae, a Fanti, who could not control his libido, managed to cajole Yakubu's beautiful wife to become his girlfriend. The Zamramaman had heard about the news that Addae was chasing his wife, but there was no proof, because the wife denied the story when he confronted her at their matrimonial home.
Akwasi Addae did not know that Yakubu, the Zamramaman, had heard the news that he was sleeping with his (Yakubu) wife.
So one day, Addae went to Yakubu to have his head and beard barbered and trimmed. Yakubu took time and gave his rival a nice hair cut.
He then came down to his beard, which he also did with precision, but after shaving the beard, Yakubu gently asked Addae to raise his head, so he could remove the scanty hair on his throat, which Addae obliged.
You see, in those days, they were not using razor blade, they were rather using well sharpened knives to shave.
Now with Addae's head raised and his adam's apple well protruding, Yakubu pretending to be removing the scanty hair from Addae's throat. He put the sharpened knife on the adam's apple and then asked a gentle question, 'do you know Ayishetu?' Addae pretended he did not hear the question, so Yakubu repeated, 'do you know Ayishetu?'
This time, before Yakubu could finish constructing the sentence, Addae had started shouting on top of his voice , yankuri oooo, yankuri, yankurii ooo, yankuri .
I am told yankuri in Hausa language means I beg you. Yes, Yakubu did not ask Addae whether he was sleeping with his wife or not, but because he knew the crime he had committed, and looking at the fact that his throat is at the mercy of   the Zamramaman, he was left with no option than to apologize, instead of arguing with Yakubu over the issue.
On Tuesday, last week, Ghanaians woke up in the morning to hear the news that Lt. Col. Gbevlo- Lartey (RTD), the National Security Coordinator had gone to 'flatten' the University of Ghana, Legon, of all places.
Like Addae, who was secretly chasing the Zamramaman's wife, Col Gbevlo-Lartey had also gone to the premier university under the cover of darkness to perpetrate the 'crime'.  
By the way, reader, do you understand the meaning of the name, Gbevlo? You see, we Ewes have funny, funny names.
Like Nana Kwame Ampadu, who used one of his songs to line up names written on cars and vehicles, let me also give you meanings of some of the Ewe names. Gbevlo (vagabond man or boy), Avudzivi (dog has given birth), Agboti (toilet), Ativor (trees have finished), Agbowada (ram has gone crazy), Afeti or Afetsi (home tree), Gavor (money is finished), Atsatsavuvu (torn bed mat), Ahianyo                   (chasing women is good), Amegashie (Fetish priest), Segbenu (soul has rejected good thing), Ashigbey (market day), Malor (I agree), Kudalor (death is asleep),    Akli (warrior).
But please, don't be deceived. Even though my name says I am a warrior, if you point a gun at me, you will not pull the trigger before my soul will depart from me.
When Deputy Ministers of state, appointed by President Mahama were being vetted, one of them, I think Dr. Helena Heloo or so, was asked to explain the meaning of her name.
The reason? Some of the MPs had heard the pronunciation of her name on radio as 'hello' instead of Helu. Of course, the lady did well by explaining that Ewes have what we call Ahanonko , (literally meaning drinking name).
Most of our Ewe forefathers got their names through this way and that is why the Ewes have these kinds of funny names.
By the way, sorry for the digression, but as I was saying, Gbevlo had gone to Legon under the cover of darkness to do his 'vagabond' thing, by pulling down the controversial toll both, near the Okponglo intersection.
Prior to this conduct by Gbevlo, the Vice Chancellor of the University of Ghana, Prof. Ernest Aryeetey, was also making paapaa on radio and in the newspapers that his outfit would never stop collecting tolls from drivers using the campus as a thoroughfare, but when the 'shaving knife' was put on his throat, ready to split open his oesophagus, after Gbevlo had gone to do the nocturnal work, he swallowed his pride and gave in to the popular demand. 'Who says power no   dey?'
Dr. Charles Wereko-Brobby (Tarzan) once wrote in The Chronicle and I quote, 'whether it was Noah who swallowed the whale, or it was the whale which swallowed Noah, there was a swallow.'
To me, whether it was Gbevlo's night attack that stopped the toll collection or the university Council that decided to listen to public outcry, the bottom line is that the toll collection has stopped. Hurrah!
I must, however, admit that the decision to collect the toll is an innovative idea from the Vice Chancellor and the University Council, except that the method they adopted in the implementation was wrong.
Readers would admit that funding education in Ghana can no more be the responsibility of the government alone. Indeed, if the government alone can shoulder this responsibility, facilities at our universities would have been expanded to accommodate every Ghanaian student that qualifies to enter the university, that is with aggregate 24, from his or her best six subjects - three core, three electives.
This setback has placed enormous responsibility on our public university heads to think outside the box and come out with innovative ideas that would help promote education, which is the cornerstone for the development of every country.
For me, even if the tolling had not been linked to the loan the university reportedly took to repair roads on campus, I would still have supported the idea, since it would help raise funds to support the running of the premier university.  
The mistake Prof Ernest Aryeetey and his council made was the high toll they were charging, which was over and above the national one.
If the university had decided to charge a flat rate of   say GH30p, the hullabaloo that accompanied the tolling wouldn't have arisen and they would still be making their money, albeit ketewaa-Biaa-Nsoa way, especially when most commercial and private cars use the campus as a thoroughfare, to escape traffic.
Students who should have otherwise supported the university council to implement this policy turned against them, because they were feeling the pinch, as the drivers were taking the new tolls from them, as well as their personal cars being tolled.
Prof Ernest Aryeetey's administration could have avoided the attack on his office and sometimes his personality, if he had done broader consultation with all stakeholders, which unfortunately he failed to do.  
The student body and the Ministry of Roads and Highways, or should I say the government, have all come out to state that they were not consulted before the policy was implemented. You cannot run a public university like that!
I am, however, happy that the government has decided to pay the loan the university took to construct the roads. We all hope that the John Mahama administration would honour its word promptly and pay back the loan.
Before that happens, I suggest that the Prof. Aryeetey administration should go back to the drawing board and repackage the policy and come out with a flexible one that would be acceptable to all stakeholders.
I insist that the tolling is an innovative idea which must not be killed, but be resuscitated and given a human face.
On the conduct of Gbevlo, I agree with those who think he went out of bounds. He could have dragged the university to court, when he realised that his warnings to stop the construction of the toll both were not being heeded to.
We, as a country, have chosen the democratic path to handle all national matters, therefore, for Gbevlo to have gone to the university, where he himself graduated from, in the night, to pull down the structure was not the best option. What he did amounted to the abuse of power, which must never happen again.
On the other side of the coin, are we also saying that the traffic jam that was created at the Okponglo junction was not a national security issue? Much as Gbevlo must be condemned, Prof Aryeetey must take part of the blame, because it was wrong for him to have ignored all the inconveniences the toll booth was causing Ghanaians.
Prevention, they say, is better than cure. It is only a security capo who does not know his or her work that would sit down for such a structure to spring up, instead of stopping it at the initial stage.
Democratic procedure is good, but when it comes to the issue of national security, it is sometimes overlooked and evidence abounds across the globe.  
This does not, however, give the security heads the leeway to abuse the democracy principles. Those in whose hands power is rested must exercise them judiciously but not capriciously.
I shall return, God willing.